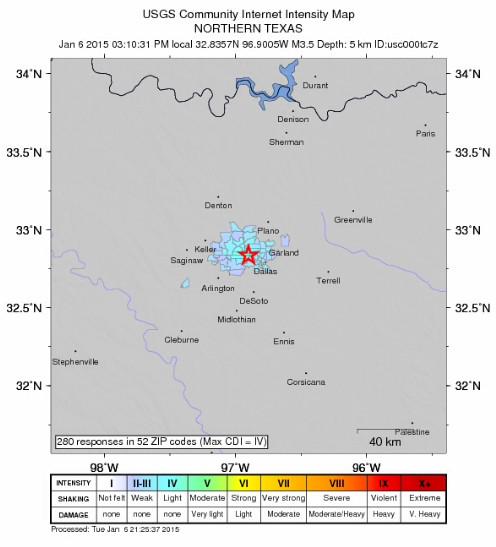 CBS Local
Nine earthquakes, three of them greater than a 3.0 in magnitude, rocked the DFW area on Tuesday afternoon and into early Wednesday, knocking items off of walls, causing cracks to appear in ceilings and generally rattling nerves across the region.
"Shook my whole house!" said CBS 11 News viewer Aprille Maganda from her home in the Las Colinas area of Irving.
The latest quake, reported just before 1:00 a.m. on Wednesday, measured in at a 3.1 magnitude, and was centered near the convergence of Highway 114, Loop 12 and the Airport Freeway, near the old Texas Stadium site in Irving.
"The last one really shook," said CBS 11 News anchor and reporter Ken Molestina, who felt the the earth moving in the White Rock Lake area of Dallas. Other people reported feeling the temblor in the uptown area of Dallas and even as far away as Bedford and Mesquite.
Here is a list of the earthquakes in order of when they happened:
7:37 a.m. 2.3 magnitude
3:10 p.m. 3.5 magnitude
6:52 p.m. 3.6 magnitude
8:11 p.m. 2.9 magnitude
8:12 p.m. 2.7 magnitude
9:54 p.m. 1.7 magnitude
10:05 p.m. 2.4 magnitude
11:02 p.m. 1.6 magnitude
12:59 a.m. 3.1 magnitude
Rafael Abreu, a geophysicist with the U.S. Geological Survey, spoke with NewsRadio 1080 KRLD. He stated that, while the Irving quakes happened only hours apart, given the strength and intensity, "We're not calling it an aftershock."
People from Dallas to Irving, and Grapevine to Plano reported feeling the 3:10 p.m. earthquake. The USGS confirmed that a quake registered at 3.5 magnitude was centered east-northeast of Irving.
Where you are located and what you are doing can often have an impact on whether or not you feel an earthquake. For example, people in high-rise buildings will usually feel a more amplified shaking.
At last count on Tuesday night, there had been 24 or more earthquakes in the Irving area since November 1. Before that series of quakes, the Azle area was rattled in November and December of 2013.
Physicist John Bellini with the USGS said earlier in the afternoon that there should be little or no damage from quakes of this size.
But USGS geophysicist Jana Pursley added that Tuesday's earthquakes were the "largest since the earthquakes started happening there in the last year."
"This is the largest earthquake in Irving since the '70s. That's as far back as our catalog goes," said USGS geophysicist Jessica Turner. "There hasn't been anything like this at all, so it's new."
Researchers are relying on equipment installed all over Irving to help understand what is going on with the most recent string of quakes. However, even more equipment is needed in the area to really get a full picture of the shaking. A team from Southern Methodist University was in Irving on Monday to install an additional seismometer.
Geophysicists said that this many earthquakes indicates stress in the Earth's crust that needs to be relieved.

VIDEO: January 6 Earthquake Inside Irving Apartment (Warning: Strong Language)
https://www.youtube.com/watch?v=bQK0m8CJ570