This woman was walking her dog when she noticed teenagers abusing a baby seal. Though she was punched for confronting them, her activism likely saved the creature's life.
Article via True Activist
Activist Sarah Tough is being commended for taking a stand against animal cruelty when she witnessed teenagers at Crimond Beach in County Durham, England, "torturing" a baby seal. The 25-year-old wrote on Facebook that she was walking her dog when she spotted teenagers messing with the wild animal as if it were a toy.
"Got punched in the nose by some little smack head because him and his pals were torturing a baby seal on Crimdon Beach, rolling him around and burying it in the sand, letting their dog on it." wrote Tough. "Told them to "f*** off or I'd call the police."
The aggressors didn't react nicely to Tough's confrontation and one of the individuals punched her in the face. Within seconds, her dog bit the attacker and the assaulters ran off. The brave woman then called the RSPCA, reports Metro. She wrote:
"[They] got there in record time and gave him some food. He's fine but very scared and exhausted. I have a nose piercing and the punch meant that my piercing punctured my septum. The rest of them started to laugh when I was hit."

"Luckily it's not broken but there was a lot of blood and it was like a searing hot pain," she added. "It's still sore now. I'm not so worried about myself though, I'm just glad the seal is safe."
Like her name suggests, the activist is tough and deserves respect for stepping up when no one else was around. "I took one for the seal team. Hah!" she wrote.
Sarah Tough was walking her dog when she spotted teenagers abusing a baby seal.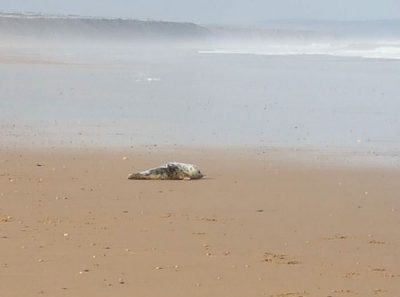 She confronted them and was punched. Then, her dog bit the attacker and they ran off.
The seal is now okay thanks to her activism and aid from the RSPCA.
What are your thoughts? Please comment below and share this news!
---
This article (Activist Gets Punched In The Face After Confronting Teens Who Were Torturing A Seal) is free and open source. You have permission to republish this article under a Creative Commons license with attribution to the author and TrueActivist.com