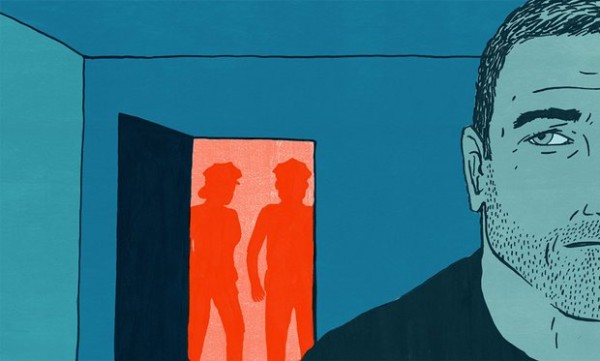 Ahsan Samad sits on the sofa in the living room of his small family home in Brooklyn, New York. The 30-year-old plumber leans forward and carefully pours the coffee his mother has just brought in from the kitchen. His young niece and nephew are playing in a nearby room.
"I know I have done nothing wrong. I am constantly thinking about it. Their visits made me terrified."
Samad looks up, bewildered and confused. He is trying to lay out the complexity of the mental hell the past four and a half years have been for him.
Samad is an American citizen with no criminal record – no arrests, no felonies. But in the shifting eyes of the American law, he is something worthy of seeming extra attention. Samad is not just American – he is also Muslim.
'Part of growing up Muslim': calls for surveillance not new for Brooklynites
Over the course of more than four years between September 2011 and 2015, he received at least five visits to his home by NYPD and then FBI officers. He says the visiting officers came with no warrant and used threatening and provocative language. During a visit in September 2011, they even forced themselves inside his home.
He and his petrified family members repeatedly told law enforcement agents presenting themselves at his residence to arrange for interviews in the presence of lawyers (who later followed up with agencies) – something law enforcement officials repeatedly declined to do.
Follow-ups by Samad's lawyers – members of a free legal clinic named Clear, which is operated by the law school at City University of New York – have not revealed the existence of any kind of formal investigation tied to Samad and his family.
Instead, the visits appear to be part of a larger tactic by law enforcement in the wide New York area, keeping tabs on members of the Muslim community online and offline, using a variety of implicit and explicit intimidating tactics.
The visits and threatening language have left Samad traumatized, verging on depression and deeply worried for his future.
This week, following the tragic and deadly attacks in Brussels that killed 31 people and wounded 250 people, Republican presidential candidate Ted Cruz called for the US to "empower law enforcement to patrol and secure Muslim neighborhoods before they become radicalized".
They told me they were watching me. They were watching my every move. They knew every message I sent
Ahsan Samad
As an example for the rest of the country to follow, the senator pointed to New York, where the police department launched a "demographics unit" after the 9/11 attacks. The at-first-secret unit, which was brought to public light by a Pulitzer-winning series of investigations by the AP in 2011, was in effect a domestic spying operation that sought to map out the residential, social and business landscape of American Muslims living in New York and the surrounding New Jersey area.
Crucially, according to the commanding officer of the NYPD's own intelligence division who arrived in 2006 and testified in court on the matter in 2012, the unit's activities led to no leads or terrorist investigations whatsoever. In other words, the program was seemingly ineffective.
Since the unit's existence was revealed, its practices have been the basis for multiple civil rights lawsuits. Of note is the Raza v City of New York case, which was settled this January, having succeeded in prompting a number of significant changes and limitations in mass surveillance practices.
The suit claimed that since 2002, the NYPD had engaged in the unlawful policy and practice of religious profiling and suspicionless, blanket surveillance, dedicating itself to the "total surveillance of Muslims" in the New York area. This resulted in the violation of constitutional rights for equal protection and the right to freely exercise religion, the successful lawsuit asserted.
While the demographics unit was officially disbanded in 2014, its findings are still used, critics say, and its foundational principles and methodologies are still utilized and dispensed.
Ted Cruz campaign's anti-Muslim propagandists called 'terrifying'
The episode Samad remembers most vividly was the second visit, which dates to late September 2011. During that visit, two officers who he says refused to fully identify themselves stormed his house under false claims that a child had called 911 (there was no child in the house at the time).
The two officers then admitted they were there to speak to the plumber himself. When Samad informed the two he would speak to them, but only with the presence of his lawyers – the Clear pro bono lawyers he had managed to find through word of mouth – what came back was vastly intimidating.
"They told me they were watching me. They were watching my every move. They knew every contact in my cellphone and every message I sent. They said that I would come to regret this and that they were going to take me down."
The following year, while seeking to return home from a visit to see a friend in Canada, Samad was informed he had been placed on a no-fly list, on which he stayed until early this year.
Ramzi Kassem, a law professor at CUNY and the founding director of Clear, says that Samad's placement on the no-fly list was most likely a retaliation for his failure to willingly speak to officers without lawyers. Kassem has seen this happen in other cases, he says, with placement on no-fly lists used as a retaliatory tactic by law enforcement after approached members of the Muslim community had refused to become informants.
Through correspondence with the NYPD, lawyers at Clear managed to obtain information that Samad had been targeted because of having allegedly posted online an article written by a third party in defense of moderate-turned-radical Islamic preacher Anwar al-Awlaki. Samad, who says he used the internet to learn more about his religion and describes himself as religious but not excessively so, did not recall posting the article, but pointed out that many of the educational videos about Islam on YouTube were by al-Awlaki, often with tens of thousands, if not millions, of views.
But Kassem (who did not confirm his client's posting of the article) highlights that internet postings expressing an opinion are constitutionally protected activities, and that policing thought as a way of preventing or predicting violent action bases itself on unproven – potentially even disproven – "radicalization theories" used by law enforcement agencies, guidelines that are set to be taken down.
Protesters at a rally near NYPD headquarters in New York, August 2014.
Facebook Twitter Pinterest
Protesters at a rally near NYPD headquarters in New York, August 2014. Photograph: Seth Wenig/AP
Living with the feeling of being watched and targeted took a huge toll on Samad's every day life and plans.
In 2012, he broke off a romantic attachment with a woman he had hoped to marry, deeming marriage and children impossible prospects under his current circumstances. "It is not fair to inflict this situation on anyone else," he explains.
His mental state has been touch and go too. "The manly side of me doesn't want to acknowledge depression, but then I must admit I have been feeling a bit of it," he says.
Samad says he often worries when the bell rings. He never knows when the next visit will come.
"I was frightened of a mental breakdown. Luckily, that hasn't happened yet. But the tool of fear: it definitely works," he says, adding he feels like he is being subjected to a form of "psychological warfare".
As extraordinary as this may sound from the outside, for lawyers, scholars, advocates and Muslim community leaders and members, Samad's story is relatively benign.
"These are common sub-judicial mechanisms often employed by law enforcement to coerce cooperation from members of the Muslim community to scrutinize and inform on their own," says Omar Farah, a staff attorney at the Center for Constitutional Rights.
"These kinds of informal interactions – visits and seemingly casual meetings with people at their workplace or homes – are part of a larger pattern of intimidation," Farah adds, saying such intimidation is part of a post-9/11 pattern of law enforcement excess and abuse on the Muslim community.
Rabia Ahsin, a New Yorker and 25-year-old graduate student at Columbia University, says that she grew up assuming she and fellow Muslim community members were being watched.
These seemingly casual meetings with people at their workplace or homes are part of a larger pattern of intimidation
Omar Farah, staff attorney, Center for Constitutional Rights
"In the beginning it felt like urban legends, but then everyone had stories or had heard stories. We knew about informants and undercovers well before the AP reports came out."
Ahsin recalls being in high school with a Muslim girl who once posted a distasteful comment about bombs on social media. The next thing she knew, the police were banging at her door. "It was quite clearly a joke," Ahsin says. "But she was Muslim, so they turned up at her door."
She also remembers being warned off Palestinian solidarity activism at Brooklyn College as an undergraduate student. "People started telling me to be careful. They said that not all people saying they are Muslim are. People are watching, they said."
In Ahsin's case, she later found out that a woman at her college, who had publicly converted to Islam and been taken in by her circle, was indeed an undercover police officer.
She says the sensation of being watched has left her feeling she cannot safely have any kind of conversation about ideas or policies safely – not even in the classroom, where such debates are encouraged.
For Samad, harassing visits have led him and his family to reconsider whether they should remain in the US, even if they are all American citizens.
"It feels like you are under attack all the time, but you can't even turn to the authorities. They are the ones doing it. I know I am supposed to have rights as a citizen, but I think they have a different rulebook for people like me, for Muslim Americans."
This article was amended on 27 March 2016. An earlier version said the NYPD's Muslim surveillance program was "an effective domestic spying operation". That should have said the program was "in effect a domestic spying operation".
Read More
http://www.theguardian.com/us-news/2016/mar/27/american-muslim-surveillance-the-emotional-toll