Luke and Lauren Southern report from New York where a group called ACT For America who are opposed to Sharia Law had gathered in a park, as part of a nationwide protest.  To counter their protest a group of ANTIFA demonstrators showed up on the other side of the street.   They are shown carrying black flags and holding signs that state things like "We don't accept a Fascist America", "Cops & Klan Go Hand In Hand", and "Defeat Capitalism Defend the Oppressed Masses".
An NBC article published today titled "ACT for America Stages Marches Against 'Sharia Law' Nationwide" along with other mainstream media articles take a decidedly negative view of the ACT protests saying that they are "considered a hate group by the Southern Poverty Law Center".  "ACT demonizes all Muslims as terrorists who want to subvert the political system in this country." said Heidi Beirich, a director with the SPLC.
This is not that surprising, since the SPLC takes a negative view of many right wing organizations that are not deemed politically correct.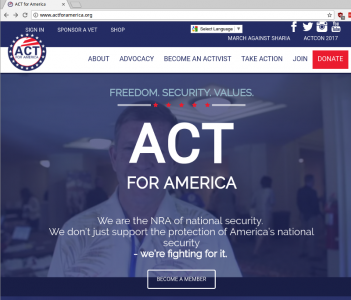 ACT For America states on their websites Official Policy Page that, "ACT for America has never, and will never, tolerate any bias, discrimination, or violence against anyone, based on their religion, gender, race, or political persuasion.  Freedom to practice one's religion in peace is afforded to each of us by the U.S. Constitution and we will continue to defend it vigorously."
While attending the protests, Luke states that he saw one masked ANTIFA member try to hit Lauren with a stick.  He intervened and then got some additional footage of what was occurring.
And in another incident an ANTIFA protester throws some sort of liquid at her, which was likely urine.
In the first video, Lauren gets into a debate with a masked protester who questions her saying "what are you doing here" and "why are you filming" and "are you with the alt-right".  He tells her that all the Nazi's are on the other side of the street.  He continues to get in her way and harass her.  At one point telling her "your inciting violence, that's why we don't want you here."  Another protester tells her "go to your safe space across the street." Other individuals start using whistles and air horns as a group of police officers get involved and begin walking with the protesters.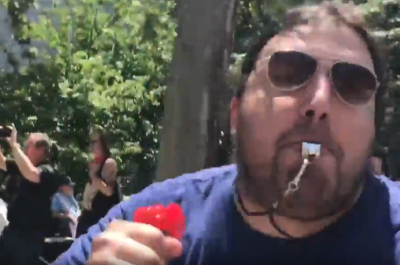 One rather large protester in a blue shirt appears to punch Luke, right in front of the police and then act like he was the one assaulted. An officer then asks Luke to leave the area, Luke points out that he is a journalist and has not done anything wrong.  The officer seems to relax and agrees with Luke on ANTIFA's use of noisemakers.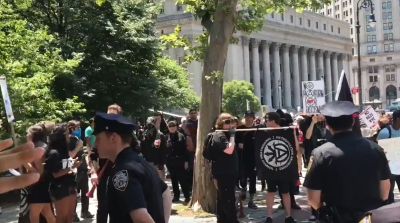 Luke then has a reasonable conversation with someone who appears to be a protester.  Luke tells him "I didn't do anything, I just showed up here and they started blasting those horns, right in my ear and then pushing and shoving me."  The man agrees "Yeah, It's the most confusing thing ever, most of the time you bash Trumps policies… and you support these guys."
Luke responds "I never support anyone, I call out that side when they are being hypocritical and I call these guys out when they are hypocritical.  I don't like Trump, I am not a pro-trump guy either, he deserves to be criticized because he's in power. That's what I have been doing as a real journalist."  The man points to the ACT group on the other side of the street saying "they support the ruling power… we are the rebellion"  Luke tells him that they are not helping their cause by attacking those critical of the establishment.  The man admits that perhaps its not the wisest thing to do.
Also, check out another video from the protest where immature AntiFa throw piss on us!
We need your support because the mainstream media won't show you the truth…
We love BITCOIN too : ) 12HdLgeeuA87t2JU8m4tbRo247Yj5u2TVP
Check us out on STEEMIT!
FACEBOOK * TWITTER * INSTAGRAM
SNAPCHAT: LukeWeAreChange