Berkeley Mayor Jesse Arreguin, who many have speculated was behind stand down orders to police during recent riots in the city, is a member of the Facebook group of far left militant organization, By Any Means Necessary (BAMN).
Wait, WHAT!? The mayor of Berkeley is a member of BAMN? Is that why we were arrested the moment we went near their leader Felarca? pic.twitter.com/nIjqPCVtwN

— Gavin McInnes (@Gavin_McInnes) April 21, 2017
Arreguin also appears to be Facebook friends with Yvette Falarco, a BAMN organizer and Berkeley middle school teacher with a long history of instigating violence.
#Berkeley Mayor Jesse Arreguin not only member of #BAMN but also friends of #RadicalLiberalTerrorist Yvette Falarco #AntiFA #DefundBerkeley pic.twitter.com/QnFPKCIHzU

— TX Intense TV ?? (@TxIntenseRadio) April 21, 2017
BAMN was named by the FBI in 2005 as thought to be involved in domestic terrorist activities, and have boasted that they  were the "organizers of Berkeley's shutdown of white neo-fascist Milo Yiannopoulos." 
BAMN is perhaps best known, however, for a 2016 incident in which they showed up to a rally held by the white-nationalist Traditionalist Workers Party outside the California state capitol building in Sacramento. The militant group was confrontational with the white-nationalists within minutes of arrival, and ten people were stabbed and hospitalized in a bloody fight. Police have verified through videos taken by members of the group, news organizations, and bystanders, that BAMN initiated the violence.
Falarco was caught on camera at the event repeatedly punching a man in the stomach and throwing him to the ground.
Arreguin, a far-left liberal, made headlines in February for his tweets prior to BAMN organizing a riot to prevent right-wing political commentator Milo Yiannopoulos from speaking at the city's University of California campus.
"Using speech to silence marginalized communities and promote bigotry is unacceptable. Hate speech isn't welcome in our community," Arreguin had tweeted.
The mayor also referred to Yiannopoulos as a "white supremacist," and was forced to issue an "apology."
"I consider much of what Mr. Yiannopoulos says to be hateful. But I regret and apologize for the white national label," Arreguin tweeted.
Hours after his tweet, supporters of President Donald Trump who hoped to listen to Yiannopoulos speak were under a violent attack. People were assaulted with pipes, a generator-powered spotlight was firebombed, and looters destroyed several businesses in the area including a Starbucks.
The rioters smashed windows, spray painted violent messages all over the area — including "Kill Trump" — and began committing arsons. It was estimated that the rioters caused $100,000 in damage to the MLK Student Union, and $400,000 to $500,000 in damage to the area surrounding the university.
It was immediately alleged that the mayor had ordered the police to stand down and allow the violence and destruction.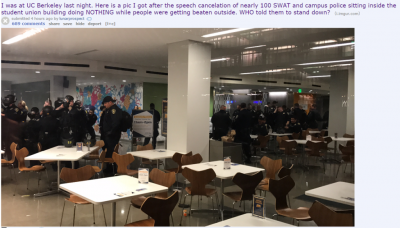 Arreguin denied the accusations, saying that the police strategy was ordered by the department, not him. "They did an excellent job in preventing further risk to safety," he added.
It was alleged by journalist and author Mike Cernovich, who broke the Susan Rice scandal as well as impending Syria strikes, that the FBI was investigating Arreguin role in the stand down.
Civil Rights section of FBI has opened an investigation into mayor @JesseArreguin, for inciting riots and ordering to police to stand down. pic.twitter.com/uy5EbgcvSm

— Mike Cernovich ?? (@Cernovich) February 2, 2017
Last weekend, violence and chaos erupted in the city once again as anarchists in black bloc attire attempted to shut down a pro-free speech rally dubbed "Patriot's Day." The militant leftists, including BAMN, assaulted the free-speech activists with bottles, M80s, and other instruments of riots.
"At first police were doing a good job keeping the crowd divided, then antifa exited the park and went into the street," journalist Tim Pool told Big League Politics of the police response during the event, "but the police just stayed in the park, so huge fights broke out and there were no police at all."
Liberal Mother Jones reporter Shane Bauer also confronted several officers to ask why they were not intervening to stop the violence. One of the officers he confronted shrugged, shook his head, and responded that "would be a good question for the chief of police."
I ask a cop why they've been hanging back as a brawl is happening half a block away in Berkeley. "I'm not at liberty to discuss my tactics." pic.twitter.com/teGEYBV1ho

— Shane Bauer (@shane_bauer) April 15, 2017
The Patriot's Day rally was organized in response to violent attacks by antifa at a "March 4 Trump" in the city on March 4. Multiple Trump supporters were injured at the event, including an elderly man who was assaulted and pepper sprayed by the militant left.
We have reached out to Arreguin's office about his possible interactions and involvement with BAMN. We will update this story if a response is provided.