In response to the Clinton Campaign's announcement they were giving Mark Cuban a seat in the front row to troll Donald Trump during the presidential debate. Trump said he was going to bring Gennifer Flowers as his special guest and secret weapon. Immediately after Gennifer Flowers accepted Bill's other women Paula Jones, and Juanita Broaddrick also expressed they wanted to be there to troll Hillary Clinton and confront her.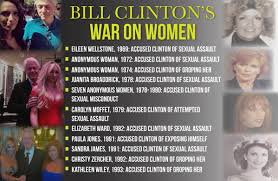 While Kathleen Willey another alleged rape victim made a serious joke that "Bill Clinton's alleged sex victims could fill the entire audience at the presidential debate." Willey also said that there are a number of women who haven't even come forward yet who are scared to do so.
 "Most of us are well known and our stories have been repeated several times over the years, but what concerns me the most are the voices of my sisters who are still afraid to come out of the darkness. I have communicated with a number of them and they are still terrified of publicly sharing their experiences with the Clintons.

The real story here is not one of our presence in the front row at any of these debates, but the unhindered lust for power that the Clinton's have displayed for decades. Hillary Clinton has lied, cheated and stolen our lives from us. People have died in her wake of deceit.

We could fill the entire audience. I would like to see the day when these women can step into the light and share their stories of brutality, terror and intimidation without the kind of fear of intimidation and recrimination that we have experienced for far too many years." ~ Kathleen Willey, said.
At first denying that he had any relationship with Gennifer Flowers during a 1992, 60 Minutes interview, Bill Clinton later admitted to one sexual encounter with Flowers in a 1998 deposition for the Paula Jones lawsuit. Saying that it occurred only one single time in 1977.
Linda Tripp, and Former Dallas lawyer Dolly Kyle have also brought up  accusations that there are thousands of more women that Bill raped or had "relationships" with. Bill is alleged to have raped Eileen Wellstone in 1969 when he was attending Oxford university where he was expelled because of the accusation.
https://twitter.com/rogerjstonejr/status/653798853536284672
Anonymous posted a pastebin detailing all the names of alleged women that have come forward accusing former president Bill Clinton of rape. Bill Clinton also has ties to pedophile billionaire Jeffrey Epstein and visited Jeffrey Epstein's "lolita island" dozens of times without secret service agents. Hillary Clinton's opponent Donald Trump also has ties to Jeffrey Epstein, although Trump claims he just picked a bad friend. That vast right wing conspiracy isn't working anymore Hillary you have way too many vast right wing conspiracies the American people aren't stupid..
US Secret Service claims it has no records showing agents were ever on #Epstien's island w/ Clinton. #OpDeathEaters pic.twitter.com/7TNzWVvGMN

— OpDeathEaters (@OpDeathEaters) May 16, 2016
Follow WE ARE CHANGE on SOCIAL MEDIA
---
Sign up become a patron and Show your support for alternative news

We use Bitcoin Too !  
12HdLgeeuA87t2JU8m4tbRo247Yj5u2TVP