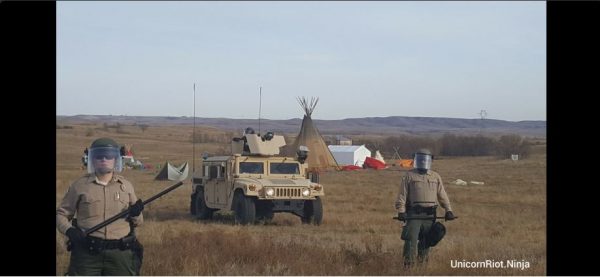 Police and activists protesting the Dakota Access oil pipeline are in a tense standoff over the activists' occupation of and reportedly belonging to the pipeline developer.
Happening now: 100+ Police in ND approaching #NoDAPL frontline resistance camp with multiple MRAPs, sound cannon, armored truck, bulldozer pic.twitter.com/QzqEhO4Kgk

— Democracy Now! (@democracynow) October 27, 2016
So far more then 260 people have been arrested since the larger demonstrations began in August.
More than 125 of the water protectors were arrested over the weekend during multiple nonviolent direct actions aimed at halting construction of the 1,100-mile pipeline which is slated to run through four states.
Armored riot police attacked a march on Saturday with tear gas and arrested 83 people on charges ranging from assault on a peace officer to rioting and criminal trespass. Police also shot down two camera dronesoperated by Native American journalists.
Activists report that harassment, strip searches and beatings at the hands of North Dakota police are becoming commonplace, but the assembled tribes remain determined to block the pipeline, which they say threatens both sacred lands and the water supply for millions of people.
Our friend Derrick Broze for MintPress news reporting from the Standing Rock Reservation just tweeted out that Camps are being removed. Tasers out, pepper spray, guns, riot gear, batons, LRAD. Then after that he him self had been tazed in the conflict.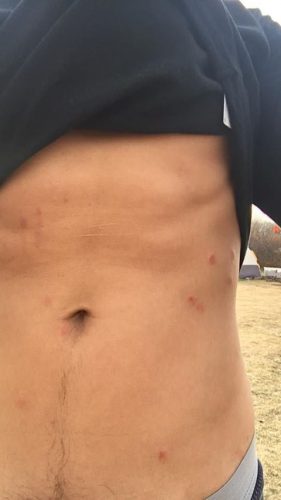 In a statement issued on Sunday, tribal leaders said:
"This morning, at approximately 8am central, water protectors took back unceded territory affirmed in the 1851 Treaty of Ft. Laramie as sovereign land under the control of the Oceti Sakowin, erecting a frontline camp of several structures and tipis on Dakota Access property, just east of ND state highway 1806. This new established camp is 2.5 miles north of the Cannon Ball River, directly on the proposed path of the Dakota Access Pipeline (DAPL). This site is directly across the road from where DAPL security dogs attacked water protectors on September 3rd."
Atsa E'sha Hoferer was live on the scene before the feed was lost. 
This is Breaking News We will bring you more information and update this article as it comes in.
Derrick Broze Update: These are the updates I have regarding the Standoff at Standing Rock:
The police bulldozed the front line camp off highway 1806, including teepees and a sweat lodge.
In one of the most beautiful sights I have ever seen the Buffalo nation came stampeding over the hill towards the police. They were being driven by native horse riders. The police followed the horse riders on ATVs and with the helicopter. I am hearing that a couple of the riders were arrested while some got away. The police fired on the horses as well, not sure if live rounds or rubber bullets or taser.
At least one construction vehicle was set on fire.
A DAPL employee ignored the water protector blockade and drove straight through nearly hitting people. He was rounded up and taken to the reservation police.
Construction on the pipeline resumed as everyone was pushed back towards Red Warrior Camp.
I will be going back to the front line shortly to see what other information I can gather and how I can help.
Please keep praying and meditating on peace. I tried to tell the officers they were my brothers. One of them said "I am not your brother." It kinda breaks my heart but these people are being trained to be robots. Still I believe in peaceful resistance and active self defense (more on that later). This is why healing is so necessary. These people are hurt and being manipulated.
One final note: in addition to my phone being taken behind police lines, my zoom audio recorder was taken as well. If anyone is interested in contributing to a fund so I can replace these immediately let me know.
Thanks again for the constant support. We Are Power.