Eleven cops were shot tonight at a Black Lives Matter protest at downtown Dallas that turned violent. Four cops are confirmed dead, with seven injured. Three are in critical condition and two are in surgery. There were four suspects according to Dallas PD.
The situation is now over after lasting four hours in a stand off. Suspect Micah Johnson is dead and the other three persons of interest are in police custody. A Black Power Political Group claimed responsibility for the attacks on Facebook, although authorities have not said whether the attacks have a tie to this group yet as of 11 a.m. EST.
The protest was in support of Philando Castile, Alton Sterling, and other black people that have been murdered by police.
Up to 50 shots were fired by someone carrying a rifle according to police.
An update as of 11 a.m. its now being reported a Facebook group Black Power Political Group posted to its facebook group that it was responsible for last nights massacre and there is more to come. The group also put out a warning prior to the shooting occurring. Although authorities have not commented about the groups claims yet.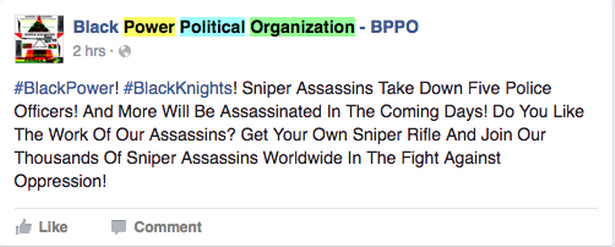 One of the shooters identified as Micah Johnson said he wanted to kill white people according to Dallas police.
Johnson was also ex military Army reserve according to defense officials. Which explains how he was able to hide and dodge police so well.
Early reports said that the weapon being used was a sniper rifle and that there are two snipers. One is neutralized while the other is still on the loose reportedly in negotiations with police to surrender. The reports of snipers used as the weapon were retracted by CNN now saying the shooters used AR-15 rifles. However a later report by CNN mentioned the Snipers again and said there was snipers and others on the ground shooting with AR-15 rifles.
The shooters were wearing tactical gear as according to Dailymail.
person of interest picture released: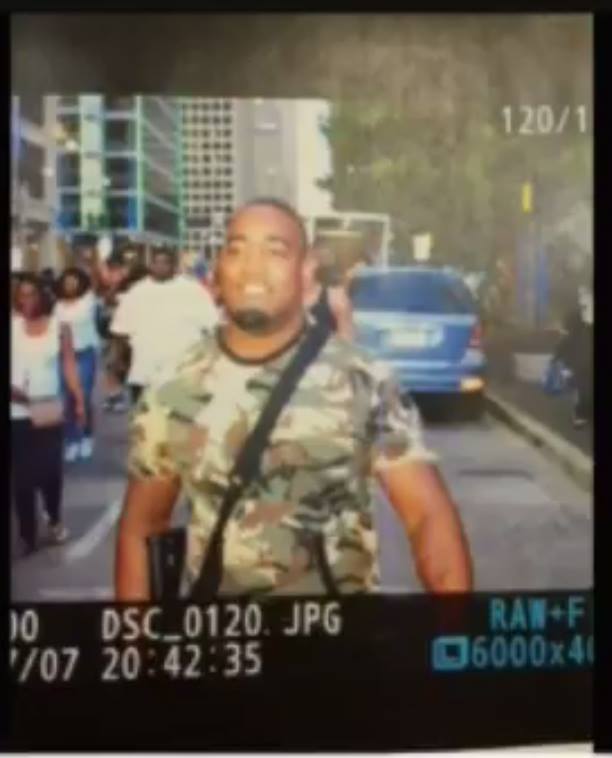 CNN reports said that there could be a possible planted bomb and multiple other suspects in the area.
One suspect was cornered off in a local garage the other is still on the loose. Swat, DHS, ATF, and FBI is on the scene. One suspect has turned himself in another suspect who was in a shootout with Dallas SWAT officers is also in custody. A suspicious package was found near that suspects location.
The package is being secured by Dallas PD bomb squad.
Update: pic.twitter.com/qBJe3q0EtN

— Dallas Police Dept (@DallasPD) July 8, 2016
CNN reported in a press conference with the local Dallas PD Chief David Brown that another suspect was involved in a fire fight with police at around 1 a.m EST. The suspect allegedly said that there are bombs all throughout Dallas downtown. In total four people are alleged to be apart of tonight's attack including one female suspect.
Downtown Dallas is closed down and barricaded for the day civilians are being asked to not go downtown as its still an active crime scene. Authorities are quickly clearing the area for any potential explosives. No threats have been found thus far besides the suspicious package found near a suspect according to LT. Dale Barnard.
"There are many people that work in the downtown area We ask them to stay away from that crime scene."
~Mayor Mike Rawlings
(We will update when more information becomes available.)
Cynthia McKinney posted on facebook prior to the shooting warning of agent provocateurs saying.
"Protesters, beware the FBI-embedded agent provocateurs, gunmen. Remember COINTELPRO against American Indian Movement and the Black Panthers!"
~Cynthia Mckinney
Earlier today another shooting happened of police posted and live-streamed to facebook.
Someone on the ground and on twitter @Allisongriz captured incredible video of the shooting tweeting out "I am so scared" and screaming "Oh my God, there's people lying on the ground."
https://twitter.com/allisongriz/status/751234755882995713
A facebook user Michael Kevin Bautista posted a video in which several gun shots can be heard in the background as he hides from gun fire saying that 2 officers have been shot.
https://www.facebook.com/michaelbautista86/videos/vb.100003576517454/899698650159344/?type=2&theater
"Multiple officers are gravely wounded This is going to be an horrific night in the city of Dallas."
Mr. Earle said.
Protest shootings in #Dallas. Looking at raw feeds. Naked eye at least three cops shot. @CBSMiami pic.twitter.com/Vwhy6u8ZF3

— Tania Francois (@SheBreaksNews) July 8, 2016
This is a little bit cleaner clip. Shots fired at the #blacklivesmatter protest. pic.twitter.com/DAJVkCll32

— G.J. McCarthy (@gjmccarthy) July 8, 2016
Video of Dallas police reacting to shots fired Thursday night at #BlackLivesMatter protest. https://t.co/kmOcj6q8qB

— Kristinn Taylor (@KristinnFR) July 8, 2016
https://twitter.com/Jamie_G13/status/751236174677569536
Protest shootings in #Dallas. Looking at raw feeds. Naked eye at least three cops shot. @CBSMiami pic.twitter.com/Vwhy6u8ZF3

— Tania Francois (@SheBreaksNews) July 8, 2016