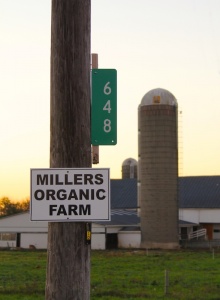 The U.S. Centers for Disease Control last week issued a report accusing Miller's Organic Farm in Pennsylvania of producing raw milk that was "the likely source" of listeria that killed a Florida individual. It was an open-and-shut case, the CDC suggested, by virtue of genetic similarities in listeria found in the individual and listeria found in Miller's raw milk.
Unfortunately, the CDC left out a number of key facts associated with the individual, including that during the weeks preceding the death in late 2014, the individual complained of gastrointestinal pain, was diagnosed with advanced cancer at a major medical center, and was placed on intensive chemotherapy. Moreover, several family members are understood to have told CDC investigators earlier this year about the cancer diagnosis.
The CDC contention that Miller's Organic Farm raw milk was the culprit in the death has been reported as fact in hundreds of media outlets, including CBS, NBC, Daily Mail, Yahoo, CNN, and the Associated Press, which together reach tens of millions of people. Typical was an Associated Press story on the ABC News site: "Pennsylvania Dairy's Raw Milk Is Linked to Listeria Death".
Here's the real story, which we have uncovered over the last several days: The supposed victim of tainted raw milk was a 73-year-old woman, Christa Rittel. For several weeks in October and November 2014, she lived in the home of Peggy Stevenson, a 54-year-old mother of two in North Palm Beach, Florida. Stevenson, who is a member of a private association that distributes food from Miller's Organic Farm, is also the sister-in-law of Rittel's son. Rittel had come down to Florida from North Carolina with her son and his wife (Stevenson's sister), and needed a place to live while her son and wife completed construction of a house nearby.
Rittel had had a stroke two or three weeks prior to arriving in Florida, according to Stevenson, and while Rittel had only slight paralysis on one side of her body, "she complained that her neck and stomach hurt." Stevenson says she tried providing Rittel with massages to help her neck, and enzyme supplements to help her stomach.
Neither approach seemed to help, and Rittel's pain and discomfort just worsened, reports Stevenson. "She said, 'My stomach really hurts after I eat.'"
Stevenson isn't even sure if she had raw milk in the house at that time, since her children weren't drinking milk, but she is nearly certain that even if she did, Rittel didn't drink any. "She mostly ate dry toast," says Stevenson.
Some two to three weeks after Rittel's arrival at Stevenson's, the family took her for medical evaluation at Jupiter Medical Center, the main hospital in the area. "They found blood in her stool," says Stevenson. Then, they put a scope down her throat and found a mass in her stomach. The diagnosis: diffuse large B-cell lymphoma, a cancer of the white blood cells that occurs primarily in older individuals.
She was put on R-CHOP, a chemotherapy for such cancers, but her condition continued to worsen. She went to another hospital, Palm Beach Gardens, where she died November 24, 2014, according to Stevenson.
It was after Rittel's death that the family learned that Rittel had listeria in her system. Family members were understandably upset about the contradictory diagnoses, and consulted with medical malpractice lawyers, who suggested that there was too much confusion around the situation to take on a legal case. But even with the possibility that Rittel was made ill by listeriosis, the family didn't make a connection to raw dairy, because Rittel hadn't consumed raw dairy, to anyone's knowledge.
For some reason, the confusion, uncertainty and contradictory medical data surrounding Rittel's illness and treatment wasn't considered worthy of even a slight notation in the CDC report issued last week. Rather, the CDC stated flat out that the "ill person from Florida died as a result of listeriosis," the "likely source" of which was raw milk from Miller's Organic Farm in Bird-in-Hand, Pennsylvania.
Nor did the CDC see fit to report that Rittel arrived from North Carolina in Florida already complaining of gastrointestinal symptoms.
Or to note that no one observed her drinking raw milk.
Or to add the possibility that Rittel might have contracted listeriosis during her treatment at either of two hospitals.
Instead, the CDC has used this death to smear Amos Miller, the owner of Miller's Organic Farm, and to generate hysteria about raw milk dangers. "Because Listeria was recently found in raw milk produced by Miller's Organic Farm, we are concerned that contaminated raw milk and other raw dairy products from this company could still be on the market and make people sick," the CDC report warns.
The fact that the CDC's investigation into the Rittel case was so terribly flawed and then dishonestly reported calls into question the agency's overall credentials and trustworthiness. That's simply another instance of what happens when scientists become ideologues on a particular health issue; we have called the CDC to task repeatedly for misrepresenting data about raw milk illnesses.
Having dealt with one of the CDC investigators and then seen what resulted last week, Stevenson now views the agency's report as an attempt to economically destroy a small family farm and business. In a letter she plans to send to the agency, she expresses her outrage and disgust for the improper reporting on what happened and for using her family's tragedy to further its ongoing agenda.
Stevenson says she continues to have high regard for Miller's Organic Farm, and wouldn't hesitate to serve its milk to her children.
While this new evidence goes a long way toward vindicating Amos Miller and Miller's Organic Farm, it seems as if they will likely be dealing with a long, intense regulatory or legal battle to simply continue peacefully feeding their community. Stay tuned.
Read More
http://www.davidgumpert.com/cdc-misconduct-raw-milk-death-victim-treated-advanced-cancer