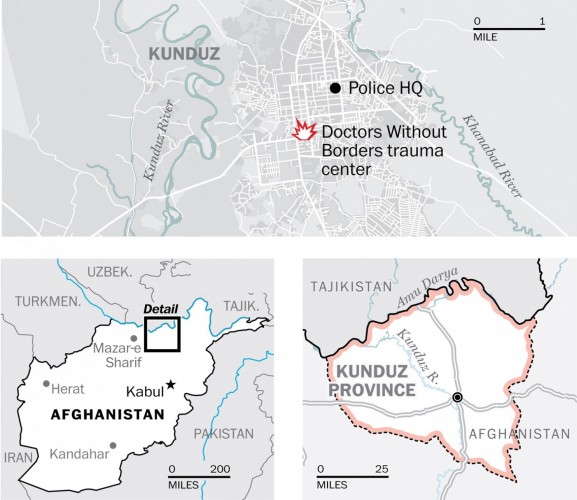 KABUL — An airstrike apparently carried out by U.S. forces heavily damaged a charitable hospital in northern Afghanistan on Saturday, killing at least 19 people — three of them reportedly children — in an incident that a senior U.N. official equated to a war crime.
The airstrike occurred before dawn when a Doctors Without Borders trauma center in war-torn Kunduz was struck while doctors were treating dozens of patients. Hospital officials said they were assaulted from the air for 30 to 45 minutes, resulting in a large fire that burned some patients to death in their beds. Among those killed were 12 of the charity group's staff members, the group said.
"This attack is abhorrent and a grave violation of international humanitarian law," said Meinie Nicolai, the group's president.
While the charity's workers reported waves of bombs hitting their facility, the U.S.-led military coalition in Kabul issued a statement confirming one American airstrike that may have caused "collateral damage" to a "medical facility." Authorities said it was launched against "insurgents who were directly firing upon U.S. servicemembers" who had traveled to Kunduz to advise Afghan security forces.
The hospital disaster came at the end of a week in which U.S. forces had to step up their involvement in Afghanistan's chaotic 14-year war, despite President Obama's pledge to reduce the U.S. role and remove most American troops from the country by the end of 2016.
Afghan hospital hit by airstrike: Map of Kunduz, where the conflict stands now VIEW GRAPHIC
U.S. fighter jets and Special Operations troops were dispatched to the area after Taliban militants on Monday overran Kunduz, Afghanistan's sixth-largest city.
[U.S. troops dispatched to Kunduz to help Afghan forces]
It was unclear how close Taliban fighters may have been to the hospital Saturday, or whether the U.S. military didn't realize the building was a hospital. Afghan security officials said Taliban fighters had been pouring into the facility in recent days seeking treatment for gunshot wounds and other injuries.
The charity and other international organizations reacted with outrage, with hospital management saying they had repeatedly informed the U.S.-led coalition of the facility's precise GPS coordinates over the past few months. The location of the hospital was last conveyed to the international coalition three days before the airstrike, officials added.
In a statement, the United Nations' top human rights official called for an independent, public investigation.
"This event is utterly tragic, inexcusable, and possibly even criminal," said Zeid Ra'ad al-Hussein, the U.N. high commissioner for human rights, adding that "if established as deliberate in a court of law, an airstrike on a hospital may amount to a war crime."
Jason Cone, executive director of Doctors Without Borders in the United States, said hospital officials in Kunduz immediately reached out to U.S. military officials when the airstrike occurred.
An airstrike damaged much of the Doctors Without Borders hospital in Kunduz. (Msf/AFP/Getty Images)
"The bombing continued for more than 30 minutes after American and Afghan military officials in Kabul and Washington were first informed," the organization said in a statement.
A U.S. military official, speaking on the condition of anonymity to talk freely, said the strike appears to have been carried out by an AC-130 gunship, a heavily armed warplane.
'The only advanced hospital'
Afghan President Ashraf Ghani said Army Gen. John F. Campbell, commander of the U.S.-led coalition forces in Afghanistan, called him on Saturday to offer condolences. But U.S. Defense Secretary Ashton B. Carter was cautious in a statement issued Saturday, saying that "a full investigation" was underway and that he was extending prayers to those affected. "We are still trying to determine exactly what happened," his statement said.
In all, at least 12 Doctors Without Borders staff members were killed along with seven patients, three of them children, the group said. At least 37 other people were seriously injured, including 19 staff members. The hospital was "partially destroyed" in the attack, which began shortly after 2 a.m., the group said.
"The bombs hit and then we heard the plane circle round," said Heman Nagarathnam, who is the charity's head of programs in northern Afghanistan. "There was a pause, and then more bombs hit. This happened again and again. When I made it out from the office, the main hospital building was engulfed in flames."
Those who could, Nagarathnam said, hid in the hospital's bunker. Medical staff and critically ill patients, however, were left exposed to the ensuing fire.
A nurse working at the hospital, Lajos Zoltan Jecs, said that when she and other staff members emerged from a safe room after the attack, they looked into the intensive care unit, which was on fire.
"Six patients were burning in their beds," she said in a statement issued by Doctors Without Borders. "There are no words for how terrible it was," she said.
Mirza Laghmani, a local resident, said Afghan soldiers were battling militants near the hospital when Saturday's airstrike took place.
"The Taliban are taking and evacuating their wounded fighters to the hospital for treatment," said Laghmani, who said the militant group still controls most of the city. "It was the only advanced hospital" in the area.
Abdul Qahar Aram, spokesman for the Afghan army's 209th Corps in northern Afghanistan, on Saturday said Taliban fighters are now hiding in "people's houses, mosques and hospitals using civilians as human shields."
Sultan Arab, a local police commander in Kunduz, said the hospital came under an airstrike "because the Taliban had shifted their command center inside the hospital."
Doctors Without Borders, which operates in 20 countries and was honored with the Nobel Peace Prize in 1999, prides itself on treating any patient in need of assistance.
Throughout the wars in Iraq and Afghanistan, the U.S. military has faced criticism over civilian casualties and "friendly fire" incidents. Former Afghan president Hamid Karzai repeatedly accused the U.S. military of being reckless in how it carried out airstrikes. But after Ghani replaced Karzai last year, relations between the Afghan government and coalition officials improved dramatically.
Ghani, who is hoping that Obama rethinks his timetable for removing troops from Afghanistan, did not directly criticize the United States for the tragedy.
The U.S. military official said Special Forces soldiers were on the ground advising Afghan forces when they detected incoming fire from Taliban fighters. They received authorization to return fire at an area that was apparently close to the hospital, the official said.
The AC-130 gunship, commonly known as the Spectre, can stay above a target for long amounts of time and carries a number of weapons, including a 105mm cannon.
On Saturday, as the main hospital building was still smoldering, Doctors Without Borders circulated photographs showing the aftermath of the bombing. In one photo, a health-care worker in blood-stained scrubs huddled in a corner with another man.
Later in the day, hospital officials began evacuating patients to another facility about two hours' drive away, a risky undertaking because fierce fighting continues across swaths of northeastern Afghanistan.
Now, there are mounting concerns that an already grim humanitarian situation in Kunduz will worsen in the coming days.
"The dead bodies are lying on the streets, both the Taliban and also civilians, and no one is allowed to pick up the bodies," said Laghmani, the local resident. "There is also an electricity shortage, a water shortage plus a bread shortage."
There have been several incidents in the past in which U.S. airstrikes inadvertently caused large numbers of civilian casualties.
In 2002, the U.S. military mistakenly bombed a wedding in Afghanistan's central province of Uruzgan, killing more than 35 people. In 2009, the U.S.-led coalition bombed two tanker trucks in Kunduz, igniting a fireball that killed 74 civilians, according to the United Nations Assistance Mission.
Missy Ryan and Thomas Gibbons-Neff in Washington, and Mohammad Sharif in Kabul, contributed to this report.
https://www.washingtonpost.com/world/afghan-hospital-hit-by-airstrike-map-of-kunduz-tally-of-civilian-casualties-in-conflict/2015/10/03/1896443c-6a07-11e5-8325-a42b5a459b1e_graphic.html