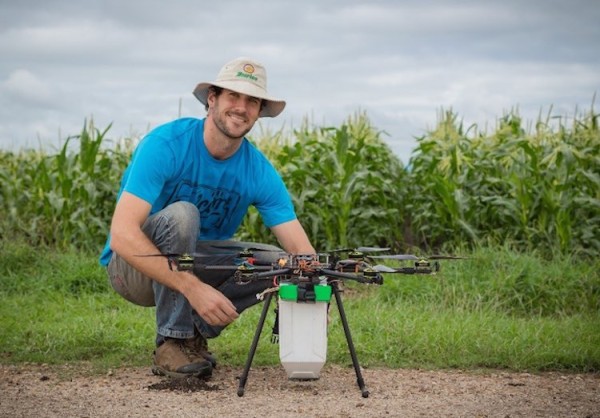 Source: Good News Network
An Australian "bug drone" utilizes remote control technology as it buzzes over pest-infested crops, dropping insects like little paratroopers.
Michael Godfrey came up with the idea while looking for a better way to spread Californicus mites — which would eat harmful bugs — on cornfields as part of a summer scholarship project at the University of Queensland.
Dropping the mites from a drone turned out to be faster and cheaper than walking through corn rows and spreading them by hand, which is the traditional method.
The five-and-a-half pound, six-rotor drone with a converted seed spreader on the bottom to hold the mites can cover 12 acres in just 15 minutes. A small motor turns a wheel that releases the bugs while the drone soars over the cornstalks.
An infrared camera has been mounted on the drone so Godfrey, an agricultural science student, can compare fields he's treated with those he hasn't in order to measure just how well his "bug drone" is working.
"Remote sensing with precision agriculture is an interesting field, and it has opened my eyes to the career opportunities," he said.
Students can study precision agriculture at The University of Queensland Gatton in a course run by Associate Professor Kim Bryceson who also manages the Agriculture and Remote Sensing Laboratory.
Photo by University of Queensland