Article via Zero Hedge
While the Trump administration has in recent days withdrawn from calls for an all-out trade war with Mexico, and is seeking to re-establish calmer relations with the Mexican presidency after a sharp fallout over his plan to build a wall on the Mexican border and crack down on illegal immigrants arriving from Mexico, it appears that it is Mexico that has taken a pre-emptive step in the imminent trade dispute by canceling existing sugar export permits to the US in a dispute over the pace of shipments, Reuters reports citing a letter. The trade flare-up could temporarily disrupt supplies industry sources were cited as saying.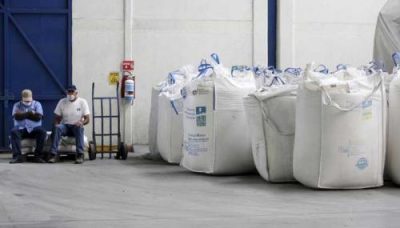 Reuters adds that the letter was sent by Mexico's sugar chamber to mills on Monday, partly blaming the situation on unfilled positions at the U.S. Department of Commerce, which it said has led to a "legalistic" interpretation of rules with no U.S. counterparts in place in Washington for Mexican officials to negotiate with.
The cancellations are the latest dispute of a years-long trade row between Mexico – the United States' top foreign supplier of sugar – and its neighbor at a time when cane refiners are struggling with prices and tight supplies, U.S. industry sources said. The development also comes as ties between the United States and Mexico have frayed under U.S. President Donald Trump, who took office in January and wants to recast the North American Free Trade agreement as he sees the trade deal skewed to favor Mexico.
Monday's letter made no mention of the political tensions between the two nations, instead saying that permits were "suspended" to comply with accords with the United States because the export limit for the six months up to March 31 was reached ahead of time, said Juan Diaz Mazadiego, director of foreign trade at Mexico's Economy Ministry. The move affects 54 permits from 23 mills, although the amount of sugar affected was not mentioned. Existing permits would be reissued in April, the letter said.
U.S. sugar prices have soared since late last year when Washington said the 2014 deal that suspended large duties on sugar from Mexico after a trade investigation may not be working as intended. The U.S. domestic raw sugar contract on ICE Futures U.S. settled at 31.71 cents per lb on Tuesday, the highest in nearly five years. Nonetheless, with Mexico still responsible for over a third of US sugar imports, down from over half 4 years ago, any disruption in the supply-chain threatens to cause a transitory surge in US sugar prices.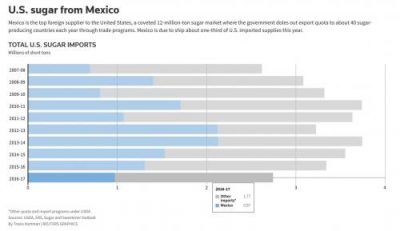 The letter also described as "absurd" an interpretation by "low-level" U.S. Commerce Department officials of a clause in so-called suspension agreements. The dispute centers on an interpretation of how the Mexican government issues export licenses to ensure supplies enter the United States at a regulated pace. The U.S. sugar industry late last year pressed the Commerce Department to withdraw from a 2014 trade agreement that sets prices and quota for U.S. imports of Mexican sugar, unless the deal can be renegotiated.
According to Richard Pasco, president of the Sweetener Users Association trade group, the Mexican license cancellation adds to protracted marketplace uncertainty. "We need adequate supplies and the lack of resolution is a problem," he told Reuters in a phone interview on Tuesday.
Whether and how the Trump administration will respond to this pre-emptive trade dispute escalation, which could cause a spike domestic sugar prices, has yet to be seen.
For now, the president appears to have his hands full with repealing Obamacare, which as we reported yesterday has been met with open rebellion by conservative groups, and will likely not have the required number of seats to pass the House while its passage in the Senate remains highly doubtful, in the process delaying the implementation of Trump's tax -and trade – policies as well.
---
This article first appeared on ZeroHedge.com and was authored by Tyler Durden.