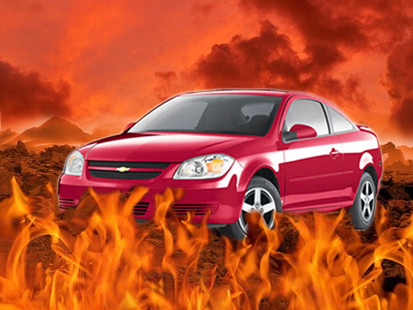 Survivors and families of victims of fatal road accidents connected to defective ignition switches in General Motors' vehicles slammed the automaker Tuesday, as lawmakers tried to piece together why it took the company more than a decade to issue recalls despite repeated red flags.
Samantha Denti, of Toms River, N.J., said at a news conference in Washington D.C. that she and other GM customers were "kept in the dark" about the defect that has been linked to 13 deaths so far.Denti described multiple instances of when her 2005 Chevy Cobalt went from "45 [m.p.h.] to zero within seconds."
"This car was surely a death trap," she said. "Driving this car was like playing a game of Russian roulette with my safety and that of my friends."
The comments came as GM's new CEO Mary Barra testified before Congress on Tuesday.
Barra was pressed by the House committee as to why GM didn't recall millions of small cars with a defective ignition switch, even though GM knew of the problem as early as 2001. She also apologized to the families of victims sitting in the committee room, saying "I am deeply sorry."
"We think the situation is tragic and we apologize for what has happened," she said.
Barra told a congressional hearing on Tuesday that she was disturbed by past GM comments that the cost of replacing defective switches in some cars, that have now been recalled, was too high, adding that the company had moved from a "cost culture to a customer culture."
She also informed the committee that the company had commissioned Kenneth Feinberg, who oversaw victims compensation funds after the Sept. 11 attacks, to help in its response to the crisis and to conduct an investigation.
Barra was grilled by committee members, but on multiple occasions was unable to answer specific questions, referring lawmakers to the ongoing investigation.
Laura Christian, the mother of Amber Marie Rose, who died in 2005 when the airbag in her Chevy Cobolt didn't deploy after she struck a tree in Maryland, said the victims were just the "cost of doing business" for GM.
"Fighting the problem was cheaper and easier than fixing the problem," Christian said of GM executives.
About 30 family members met with Barra and two GM attorneys Monday night. All got a chance to tell their stories, but Christian said they got little reaction. "A lot of, 'I'm so sorry, I'm so sorry,'" Christian said. GM would not comment on details of the meeting.
Sen. Richard Blumenthal, D-Conn., is among those calling for GM to now make a stronger statement and tell owners of certain cars to stop driving immediately.
"[GM] has failed to warn sufficiently that these drivers of these particular models are unsafe at any speed behind that wheel," he said. "Until they are repaired, they should not be driven."
'Cooperate with Congress'
Blumenthal, along with fellow Democratic Sen. Edward Markey of Massachusetts, has introduced legislation designed to improve the automobile industry's reporting of safety problems. The legislation would require manufacturers to provide more information about fatal accidents and would give the public better access to such reports.
GM's own timeline, provided to the government, indicates that it knew as early as 2001 that there were problems with the ignition switch in the Saturn Ion. That switch was later used in the Cobalt and other cars. GM eventually learned of accidents and fatalities linked to the switch, and conducted multiple reviews. Yet the cars were only recalled this year.
According to a timeline prepared by the House subcommittee, GM engineers developed a fix for the switch in 2004, but it was canceled in 2005 because of its long lead time and cost.
Engineers also devised a new key design that would prevent the key from falling out of the ignition and causing the engine to stall. The fix was approved but later canceled. Lawmakers will want to know why that was the case and who was involved.
Rep. Diana Degette, D-Colo., who is among those heading the House investigation of the matter, also echoed warnings to the public in saying that owners of the affected vehicles should take them to their dealers immediately to get fixed and called on GM to cooperate with Congress.
"You need to cooperate with Congress and let us know why this happened and what you will do to rectify the situation," Degette said.
GM has recalled 2.6 million cars for the faulty switch. That recall prompted GM to name a new safety chief and review its recall processes. The company also announced the recall of 1.5 million more vehicles on Monday for a power steering problem.
In all, GM has now recalled 6.3 million vehicles since February. GM estimates the actions will cost it $750 million.