In 1992 after the Clintons moved into the presidential mansion, the political scandals multiplied – from use of the IRS and FBI to target political opponents to stalking and harassing subjects of Bill Clinton's sexual advances and even attempts to loot taxpayer-funded items from the White House.
Americans also witnessed capers such as Travelgate, Chinagate, Filegate, and now EmailGate.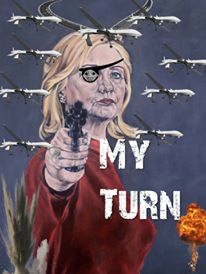 Bill Clinton's sexual escapades and subsequent impeachment by the U.S. House of Representatives on charges of perjury and obstruction of justice consumed more than a year of American public life and bitterly divided the nation.
In the years since the memorable Clinton presidency, Hillary has brought America Emailgate and the Benghazi scandal, among others. New developments in the Clinton Foundation scandals emerges almost daily.
Now, it's Hillary's Turn.
In 2003, ABC News' Barbara Walters referenced numerous Clinton scandals from Whitewater to Travelgate and the death of Hillary law partner Vince Foster in an interview with then-Sen. Clinton.
Walters asked Hillary, "How did you get in this mess where your whole credibility is being questioned?"
Hillary's response: "Oh, I ask myself that every day, Barbara, because it's very surprising and confusing to me."
With Hillary making another run for president, don't get caught up in the lies and spin! In "Hillary Unhinged: In Her Own Words," find out who the true Hillary is with this raw and humorous collection of quotes that pitilessly underscores her hypocrisy
With the prospect of another "two-for-one" Clinton presidency looming, is America ready for a repeat of the Bill and Hillary "drama" in the White House?
If, as psychologists say, "The best predictor of future behavior is past behavior," then a fresh look at the top 20 scandals involving Hillary is in order.
1) Clintons turn IRS into 'gestapo'
During Bill Clinton's terms  IRS audits were conducted against individuals and groups who caused problems for their administration. Several prominent conservative groups found themselves facing IRS audits following their criticism of the president and his policies.
A 1996 survey by the Washington Times could not identify a single liberal public policy organization that had been audited during the entire Clinton administration.
2) Covering Bill's dirty deeds
The Clintons have been accused of hiring private investigators not only to dig up dirt on adversaries – such as Juanita Broaddrick, the woman allegedly raped by Bill, and other abused women such as Kathleen Willey and Paula Jones – but to stalk, scare and threaten them.
In her book, Willey cites sources who contend Hillary began engaging private investigators during their time in Arkansas so she could head off any repercussions from her husband's behavior. The first to be dispatched were her own father and brother when she committed to marry Bill, according to author Jerome Levin in "The Clinton Syndrome." Bill had left Yale University for Arkansas to teach law, and she went to work in Washington, D.C.
When Bill was governor, Hillary sent out a group of investigators known at the "Truth Squad" to discourage many of her husband's lovers from going public.
3) Looting the White House
When the Clintons left 1600 Pennsylvania Avenue in 2001, they reportedly vandalized and looted the White House. During their time in the White House, the Clintons also auctioned off and sold taxpayer-financed government goods and services in exchange for political campaign contributions and personal profit. Among the items sold by the Clintons, which Judicial Watch uncovered in various lawsuits, and the media and Congressional investigations.
4) Filegate: FBI files on GOP enemies
The Clinton duo was involved in a scandal known as "Filegate" in which they illegally obtaining FBI files on perceived adversaries, most of whom served in previous Republican administrations.
"In an effort to discredit the women who charged President Clinton with sexual misconduct, personal files and papers were illegally obtained and released. The courts found, under the Privacy Act, that the privacy of Linda Tripp and Kathleen Willey had been violated," a Judicial Watch report said, citing just a few of more than 900 relevant files. Judicial Watch said Hillary had been linked "directly to the center" of the controversy.
5) Hillary's 'Muslim Brotherhood princess'
Huma Abedin, who served as Hillary's longtime deputy chief of staff and has worked with her for nearly 20 years, has known ties to the Muslim Brotherhood – a group bent on "destroying Western civilization from within" – and other Islamic supremacists.
6) Vince Foster's 1993 death
Vince Foster was deputy White House counsel and Hillary's friend and law partner who had connections to the Travelgate and Whitewater scandals. In 1993, Foster was found dead in a park with a fatal gunshot wound to his mouth
7) Emailgate: 'She should go to prison for this'
Hillary kept all her official correspondence as secretary of state, as well as her personal emails, on a private email
server located at her home – instead of using the government-mandated process while serving in the high appointed position. Her email system was unsecured for months while she used it for government business, and she did not sign a standard agreement when she left office that promised she had left government property behind.Hillary gave 55,000 emails from her private email account to the State Department in December. On March 10, Clinton announced she had deleted 30,000 emails she considered personal. She was warned by Congress way back in 2012 against using a private email account for government business – and her response? I mean    "What difference does it make"
---
 HELP GIVE Luke a Trip To Germany -JOIN-
---
8) Chinagate: Sale of high-tech secrets
Chinagate, documented by Judicial Watch, was uncovered by Judicial Watch founder Larry Klayman. Technology companies allegedly made donations of millions of dollars to various Democratic Party entities, including President Bill Clinton's 1996 re-election campaign, in return for permission to sell high-tech secrets to China.
9) Travelgate: Always room for friends
In the Travelgate scandal, the staff of the White House travel office was fired to make way for Clinton cronies, including Bill's 25-year-old cousin, who was reportedly promised the position of office director.
Hillary allegedly fired seven employees and gave the positions to her Arkansas friends. According to the Washington Post, there was an effort to award a White House airline contract to a Clinton friend.
10) Whitewater: Jail for friends, but not Clintons
The Whitewater investigation by independent counsel Kenneth Starr began in 1994 with accusations of impropriety against the Clintons and others concerning improper campaign contributions, political and financial favors, and tax benefits. Its initial subject was a failed Arkansas real-estate venture involving the Clintons in the 1980s that was linked to the collapse of Madison Guaranty Savings and Loan, a Little Rock savings bank run by the Clintons' Whitewater business partners. Clinton friends James and Susan McDougal went to jail for fraud (James died while serving his sentence), as did former Arkansas Gov. Jim Tucker and municipal judges David Hale and Eugene Fitzhugh.
The probe eventually expanded to include the death of deputy White House counsel Vincent Foster, the dismissal of White House travel office employees, receipt by the White House of a number of FBI files and the issue of whether President Clinton lied or obstructed justice to hide an affair with White House intern Monica Lewinsky.
(EDITORS CHOICE) #11) 'Landing under sniper fire' in Bosnia
In her March 17, 2008, foreign-policy speech on Iraq, then-Sen. Hillary Clinton recalled a trip she made to Tuzla, Bosnia, in 1996.
"I remember landing under sniper fire," Hillary said of her visit while she was first lady. "There was supposed to be some kind of a greeting ceremony at the airport, but instead we just ran with our heads down to get into the vehicles to get to our base."
But news footage of her visit revealed her "sniper fire" claim wasn't just exaggerated. It was completely false. And Hillary had repeated the claim several times, including during her time on the presidential campaign trail in 2007.
Rather, Hillary landed on a tarmac and greeted a crowd, including an 8-year-old child who gave her a poem, under no duress. According to the Washington Post, a review of more than 100 news articles revealed no security threats to Hillary at the time.
---
Sign up & become a patron Show your support for alternative news now
for Just 1$ a month

you can help

Grow

 We are change

---
12) Hillary's 'missing' law firm billing records
In 1994, federal investigators subpoenaed Hillary's billing records from her days as a partner in the Rose Law firm during the Watergate scandal. The White House said it didn't have the 115 pages of files.
While Hillary claimed she had a minor role in the affair, the Washington Examiner reported that "when the records mysteriously turned up in the White House in 1996, they showed she met repeatedly with key figures in the scandal."
13) Pardongate: Hillary Senate contributions

Before Bill Clinton left the White House in 2001, he granted numerous controversial pardons – including to convicted tax evader Marc Rich, whose wife made significant contributions to Hillary's 2000 Senate campaign and the Clinton presidential library.
14) Hillary's cash cows and 9,987 percent profit

In March 1994, it was revealed Hillary – with no previous experience – had made massive profits from cattle futures trading between 1978 and 1979, when Bill Clinton's salary as Arkansas attorney general had been modest. She reportedly made $99,537 in profit on a $1,000 investment (a 9,987 percent profit) in just nine months because of a highly placed connection at Tyson Foods, which was the largest employer in Arkansas and a big Clinton donor.
15) Clinton body count: 'You find dead people'

"The Clinton body count," first published in WND and later circulated by Linda Tripp to Monica Lewinsky, is a collection of names of people associated with Clinton administration scandals who have died mysterious and often violent deaths. Reporter David Bresnahan broke the story of the list during the summer of 1997 while researching his book, "Cover Up: The Art and Science of Political Deception."
16) Hillary's radical pal, Saul Alinsky
he exact nature and extent of Hillary's relationship with radical community organizer Saul Alinsky has long been the subject of speculation and intrigue. The interest has been largely fueled by her suppressed and later released 92-page senior thesis for Wellesley College offering an extensive, largely positive critique of Alinsky and his work.
long after Alinsky's death in June 1972, a group Clinton co-chaired maintained a working relationship with Alinsky's main community organizing outfit, the Industrial Areas Foundation, or IAF.
17) Hillary laughs about defending child rapist
Tapes reveal her discussing the case of Thomas Alfred Taylor, then 41, who was accused of raping a 12-year-old in Springdale, Arkansas, on May 10, 1975.
"It was a fascinating case, it was a very interesting case," Clinton said on the tape. "This guy was accused of raping a 12-year-old. Course he claimed that he didn't, and all this stuff. … I had him take a polygraph, which he passed – which forever destroyed my faith in polygraphs." She laughed at the statement.
The woman who says she was raped by the defendant blasted Hillary in 2014, accusing her of intentionally lying about her in court documents. "Hillary Clinton took me through hell," she told the Daily Beast.
18) Hill ca$hes in: Iranian fundraising
Hillary received funds from an arm of the Iranian government and hired a convicted Iranian-American multimillionaire with ties to Tehran as her national campaign finance director in 2008. The Bill, Hillary, and Chelsea Clinton Foundation accepted $30,000 between April 2005 and March 2006 and another contribution of between $25,000 and $50,000 in 2008 from the New York-based Alavi Foundation, which U.S. government prosecutors have identified as an arm of the Iranian government.
19) Clinton Foundation: Scandals keep coming
, the Clintons appear to have siphoned off tens of millions of dollars annually from funds the Bill, Hillary, and Chelsea Clinton Foundation has received from a United Nations-sponsored program that uses levies on airline tickets to help HIV/AIDs victims in the Third World, charges Wall Street analyst and investor Charles Ortel. The Clinton Foundation also reportedly distributed useless drugs to AIDS patients in Third-World countries.
Although Hillary was appointed to the board of directors of the Clinton Foundation in 2013, after she had resigned as secretary of state, Ortel contends she is complicit in what he has described as systematic financial fraud warranting a criminal investigation.
After months of tedious investigation, Ortel has concluded the foundation has filed financial and tax forms that were materially misleading, incomplete and in error with the goal of enriching the Clintons and their close associates.
Just 9 percent of the Foundation's money went to charity in 2013. Fox News' John Stossel noted, "Charity Navigator, the biggest charity rating service, won't even list the Clinton Foundation in its rankings. This is repulsive. If a Republican candidate ran a charity that did that, it would be a scandal. But the Clintons must be immune."
20) Benghazi:

4 American lives lost
On Sept. 11, 2012, while Hillary was secretary of state, Islamic militants attacked a U.S. special mission in Benghazi, Libya, and murdered U.S. Ambassador J. Christopher Stevens and U.S. Foreign Service Information Management officer Sean Smith. Two CIA contractors, Tyrone Woods and Glen Doherty, were also killed.
a security decision finalized personally by Hillary may have unwittingly doomed the Americans in Benghazi. Hillary herself signed waivers that allowed the facility to be legally occupied, since it did not meet the minimum official security standards set by the State Department. The waiver legally allowed the CIA annex to be housed in a location about one mile from the U.S. special mission.
According to accounts from Benghazi survivors, the delayed response time by those at the CIA annex may have cost the lives of Stevens and the three other Americans killed at the special mission. If the CIA annex had been co-located with the U.S. special mission, a rapid response team would have been on site during the initial assault in which Stevens was killed. Clinton's waiver allowed the CIA annex to be housed at the separate location.
WHY YOU SHOULD NOT VOTE FOR HILLARY CLINTON 2016 
---