A Syrian refugee who writes for the Huffington Post has stated his belief that women are to blame for being sexually assaulted by migrants in Cologne, Germany, on New Year's Eve last year.
During the horrific evening, 1,310 people reported being robbed or assaulted, 662 of them sexually — with 28 reporting being raped. Nearly a year later, there have been only 18 convictions over the rampage, out of a total of 333 suspects.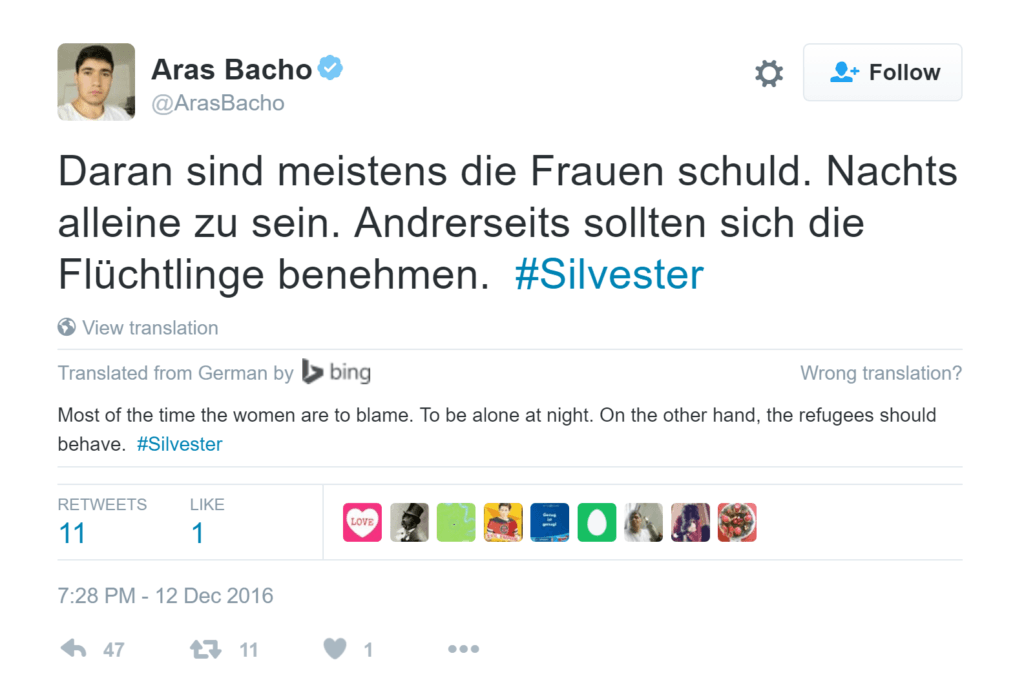 Aras Bacho, 18, a regular columnist for the Huffington Post's German website, believes that the women are to blame for being out alone late at night celebrating the holiday.
"Most of the time women are to blame. To be alone at night. On the other hand, the refugees should behave," Bacho tweeted, with the hashtag "#Silvester", meaning "New Year's" in German.
The tweet was left up for at least five days, though it has now been deleted.
Bacho was born in Syria, but has lived in Germany for the last five years.
"My name is Aras Bacho. Am 18 years old and come from Syria. I've been living in Germany for 5 years and talk about truths. I fight for equality and am always seeking crucial answers which I blog on the Huff post," Bacho's Huffington Post bio reads.
As Breitbart notes, this isn't the first time that Bacho has posted controversial statements.
In October, Bacho demanded that all signs in Germany be translated to Arabic.
"I, as a refugee, think that inscriptions on street signs in Europe should be translated into Arabic. Equally, food packaging should be in Arabic. It should also be possible to take tests in Arabic," Bacho wrote, stating that this must be done, "no matter what the cost."
In other posts, Bacho demands that Germans donate more money to refugees, and that the government provide them with taxpayer funded smart phones.
"Almost everyone in Germany owns a smartphone. I think that refugees from the German state should get a smartphone. It is unfair that many migrants can not afford one," Bacho wrote.
It's funny, most would argue that it is far more unfair that women cannot safely leave their homes in the evening.
If this tweet was sent out by a college student writing for a conservative news outlet, the liberal reaction to his commentary would most definitely be far different.