Luke Rudkowski, Mark Dice & Adam Kokesh team up to take on the most insidious mafia organization in DC, The Federal Reserve. Watch what happens when Luke, Mark & Adam begin innocently filming the outside of The Federal Reserve building on Constitution Ave.

Follow Luke @ twitter.com/lukewearechange
Follow Mark @ twitter.com/markdice
Follow Adam @ twitter.com/adamkokesh
Below are some screen captures and pictures from our visit.
Federal Reserve Police put on a show for us with killer babes and bomb sniffing dogs.
Great shot of The Federal Reserve Security Supervisor accusing Mark of "bumping" into him.
Mark trying to schedule a tour of The Federal Reserve.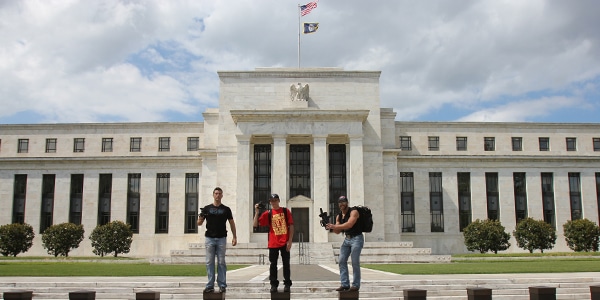 Liberty Lovers United!
In case you missed it, later in the day Mark and I visited the Senate building and confronted Senator Boxer from California. It was a productive day to say the least.