We will be keeping track of all election anomalies, poll rigging, blocking of the polls, and other shady voting fraud tricks throughout the day — to document anyone trying to rig the election.
To make this easy to read and to inform you the voter we will break this down into sections by state in alphabetical order.
We did this in August for the Democratic primary – and the list of fraud was HUGE. Today, James O`Keefe and crew are out there. Want to become famous? Try and rig the election – we dare you.
If you're committing #VoterFraud, we're going to find you. #VeritasIsEverywhere #ElectionDay pic.twitter.com/qHULNMuEQ4

— James O'Keefe (@JamesOKeefeIII) November 8, 2016
If you have a tip regarding any type of voter fraud or electioneering you can email An0nKn0wledge@protonmail.ch or Andrew@wearechange.org. Remember, Edward Snowden showed how easy it is to HACK into a US voting machine with a £24 memory card.
Voting Machine "Irregularities" Reported in Utah, Tennessee, Pennsylvania, & North Carolina Thanks to our friends at Zerohedge.
12:16 P.M. –  The first state on the board is Pennsylvania. Scroll down to see the outrageous video.
5:00 P.M. – More reports of fraud in Pennsylvania. Scroll down to Pennsylvania section for details.
5:55 P.M. – Reports Of Election Machine Outages and Delays in Colorado.
6:51 P.M. – Breitbart reports Mentally Ill Voters Being Used As Pawns In Florida
6:53 P.M. – Breitbart reports Louisiana Voting Machine Logged Votes Before Poll Opened
8:00 P.M – Glitch reported in California has some voters worried in North Highlands
FULL LIST:
ALABAMA:
ALASKA:
ARIZONA:
ARKANSAS:
CALIFORNIA:
Glitch In Ballot-Counting Machine Has Some Voters Worried In North Highlands
COLORADO:
Colorado polls close as scheduled at 7 p.m. after Denver judge's ruling
CONNECTICUT:
DELAWARE:
Washington District of Columbia:
FLORIDA:
Breitbart reports Mentally Ill Voters Being Used As Pawns In Florida
GEORGIA:
HAWAII:
IDAHO:
ILLINOIS:
INDIANA:
IOWA:
KANSAS:
KENTUCKY:
LOUISIANA:
Breitbart reports Louisiana Voting Machine Logged Votes Before Poll Opened
MAINE:
MARYLAND:
MASSACHUSETTS:
MICHIGAN:
MINNESOTA:
MISSISSIPPI:
MISSOURI:
MONTANA:
NEBRASKA:
NEVADA:
NEW JERSEY:
NEW MEXICO:
NEW YORK:
NORTH DAKOTA:
OHIO:
OREGON:
PENNSYLVANIA:
5:18 p.m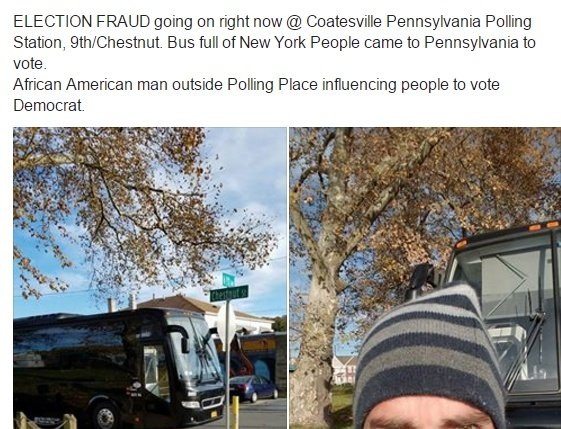 5:00 pm: CBS Reports Trump Votes Being Switched To Clinton
"My name is Brittany Foreman… and today I witnessed Voter Fraud." #VoterFraud ILLEGAL. Please SHARE pic.twitter.com/5Plk8FszuT

— Philly GOP (@PhillyGOP) November 8, 2016
In Philadelphia tailing a pastor's bus that's bussing people to the polls. #VeritasIsEverywhere & we will catch your #VoterFraud. @PhillyGOP pic.twitter.com/FY9UPOQolp

— James O'Keefe (@JamesOKeefeIII) November 8, 2016
Voter Fraud Caught on Tape in Philadelphia – https://t.co/1h2z7Jgv4R #ElectionDay pic.twitter.com/C0NVY8Me5H

— Paul Joseph Watson (@PrisonPlanet) November 8, 2016
Puerto Rico:
RHODE ISLAND:
SOUTH CAROLINA:
SOUTH DAKOTA:
TENNESSEE:
TEXAS:
UTAH:
VERMONT:
VIRGINIA:
Virgin Islands:
WASHINGTON:
WEST VIRGINIA:
WISCONSIN:
 WYOMING: