Rogue employee or hacked? On Thursday morning, McDonald's official Twitter account criticized President Donald Trump in a bizarre tweet calling him a "disgusting excuse of a President."
The now deleted tweet by the McDonald's Twitter account "MCDonaldsCorp" read: "You are actually a disgusting excuse of a President, and we would love to have Barack Obama back, also you have tiny hands."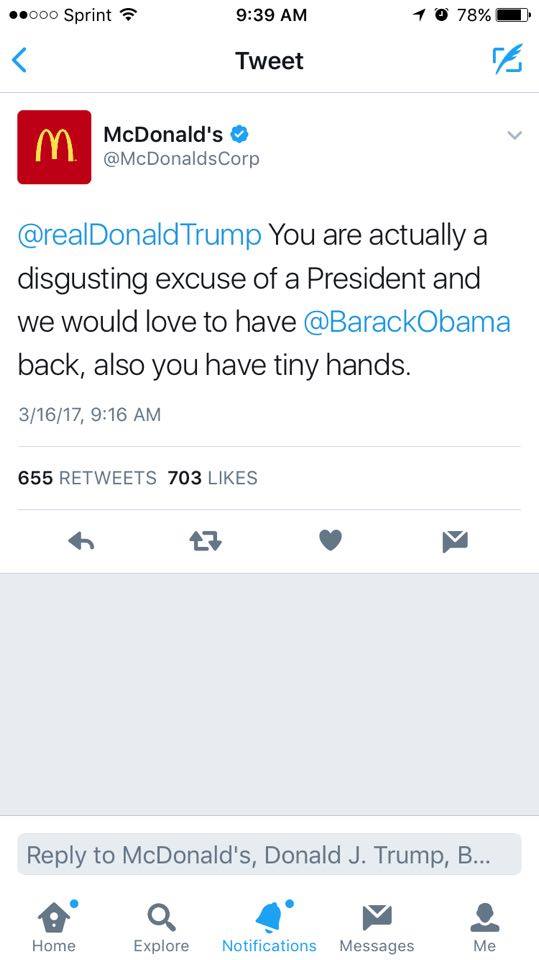 The tweet was sent at 9:16 a.m and was deleted 30 minutes later, but not before the message was retweeted more than 600 times.
The tweet was apparently also "pinned" to the Twitter account. It's unclear whether the account was hacked or a rogue employee began tweeting criticism at the 45th President.
.@McDonaldsCorp just tweeted this at the president and pinned it.https://t.co/kmtei73GOt pic.twitter.com/NsWE1NWDbH

— Sahil Kapur (@sahilkapur) March 16, 2017
Trump once starred in a McDonald's commercial advertising for the fast food company in 2002.