On Thursday, October 1st, as the shooting at Umpqua Community College in Roseburg, Oregon, began, people in the area fled in terror and only had two goals…to stay alive and make sure their families knew they were safe.
What happened afterward has been recounted hundreds of times since the Oregon shooting. But what you may have missed was how the mainstream media reacted to the news and their concern for "getting the scoop" was their first, last, and only objective on that day.
Approximately 30 minutes after the first 911 call was made to local police, a student on campus sent out two quick tweets while running from the area and looking for safety. That student, a local woman named "Kayla Marie" first tweeted "OMG there's someone shooting on campus," and then two minutes later "Students are running everywhere. Holy God."
At this point, as producers searched for "victims" to sensationalize, a perfect example why people have so little respect for mainstream media outlets was put on display for anyone to see. Kayla was hit with a barrage of tweets from multiple people at every major news organization looking to score "an exclusive interview" to be the first to hit the airwaves with the images of a frightened girl who had just escaped death.
Below is an image of some of the responses she received to her message of a shooter.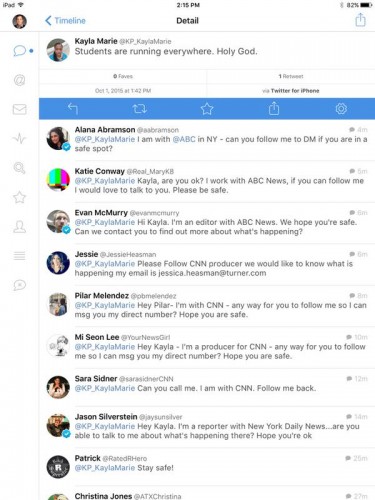 Please note that this is just a small sample of the messages she received. We would like to have shown you the entire list, but Kayla Marie was forced to make her Twitter account private because there can be no privacy for people who have details about an extra-ordinary event in a world ruled by headline writers and mainstream media organizations who pay their bills peddling fear and grief.