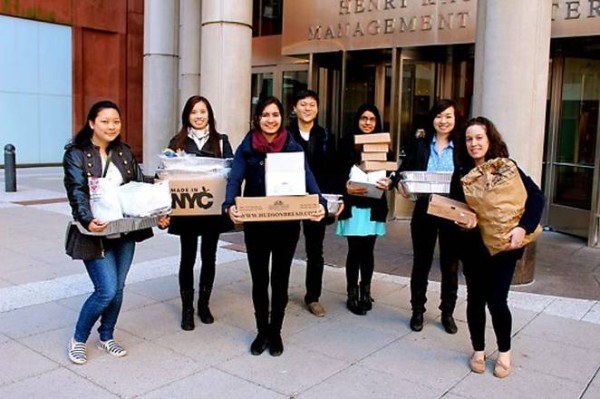 Source: Tree Hugger
Food waste is a huge problem worldwide. According to the NRDC, the United States alone throws out a whopping $165 billion dollars worth of food every year — enough to feed 2 billion people. All the while, one in seven Americans go hungry. These are the statistics that New York City-based non-profit organization, Rescuing Leftover Cuisine, is fighting by collecting hundreds of pounds of edible leftover food from local restaurants, and giving it to the homeless.
Rescuing Leftover Cuisine (RLC) was founded in 2013 by Robert Lee and Louisa Chen, who both graduated from New York University. They've since added chief financial officer Paul Sun to their team. During school, Lee and Chen spent years volunteering for Two Birds, One Stone, an organization that delivered extra food from dining halls to homeless shelters. It was this experience, and a no-waste, thrifty childhood upbringing by Korean immigrant parents that inspired both youngsters to continue their work, with a goal of scaling up this model of food recovery, to bring it to restaurants all over the city and beyond.

RLC doesn't just rescue food from various restaurants and cafés; they also collect data on every item they rescue, data that helps restaurant owners better streamline the donation process and better manage their food waste. RLC is encouraging restaurants to use smartphone apps that would allow them to alert rescuers when they have food to donate. RLC says that it hopes to develop this model into one that can be implemented worldwide:
The mission of Rescuing Leftover Cuisine is to become the world's most widely used solution for companies and individuals to eliminate food waste in their communities, making food rescue sustainable and universal, and food hunger a thing of the past.
So far, RLC has delivered over 10,000 pounds of food to the homeless, at a cost of 10 cents per pound, one of the best in the nascent food recovery industry. RLC's model seems to be spreading: recently, new chapters have sprung up in San Francisco, Albany, Miami and Los Angeles, and they've garnered attention from the non-profit industry. It's inspiring to see simple but smart waste-reduction ideas like this gaining ground, diverting good food to the people who need it most. Check out more over at Rescuing Leftover Cuisine.