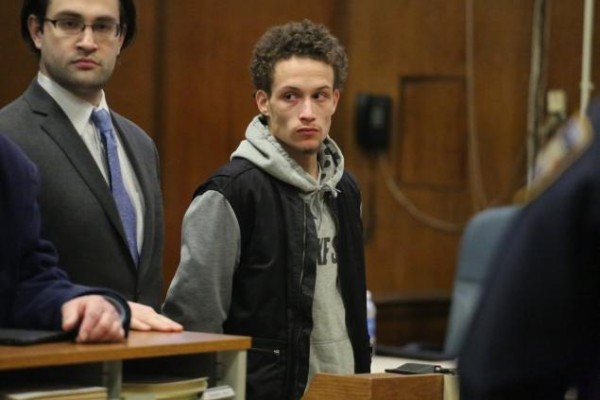 Ramsey Orta, the man who recorded the viral video of Eric Garner's murder by NYPD officer Daniel Pantaleo that became the catalyst for the mantra "I can't breathe" for the national police accountability movement, was arrested on Wednesday while recording a traffic stop.
Orta walked out of his home on March 16 and noticed a New York City police officer conducting the traffic stop, so he pulled up to the scene and started video recording.
Police had stopped the driver of the vehicle, Anthony Sainphor, 25, for defective brake lights. Sainphor was later arrested for carrying a fake identification and charged with possession of a forged instrument.
As police handcuffed Sainphor, Orta walked up and began recording closely.
Police asked Orta to step back. That's when he walked towards the arrest victim and gave him a business card for Copwatch, a national police accountability organization for which he volunteers.
Police then arrested Orta and took him to the local precinct where he was held for about two hours and then issued him a desk appearance ticket, which is essentially a summons promising to appear for an arraignment on May, 3rd, 2016.
Orta claimed the police arrested him when he handed Sainphor his card.
Police said they arrested Orta because he was recording too closely.
"They arrested me because of the purpose I was there for," he told PINAC.
"Basically, I told them who I was associated with. When I handed him (Sainphor) my card, that's when I was arrested. I'm not going to say I was targeted, but I had on a Copwatch hat, jacket and shirt. And I had business cards. They knew who I was."
According to NYDailyNews.com, a police source responded to allegations Orta was targeted, "Every time he gets arrested, his lawyers come back and say we are targeting him. I wouldn't know Orta if I bumped into him in a parking lot and neither did these officers."
That's doubtful. You'd be hard-pressed to not know who Ramsey Orta is if you're a member of NYPD. After Orta recorded officer Pantaleo murdering Eric Garner while Garner begged for his life and pleaded "I can't breathe, I can't breathe", the video went viral and sparked nationwide outrage and protests against the NYPD for how it handled the case. You'd have to be in a coma to not know who the man behind the camera was.
Daniel Pantaleo administered a rear-naked choke hold on Eric Garner. Garner pleaded over and over "I can't breathe. I can't breathe," which NYPD and Pantaleo ignored. Pantaleo's choke hold ultimately killed Garner.
After his death, NYPD accused Garner of selling loose cigarettes as their reason for the fatal brutalization of Garner. But those claims were never substantiated with any actual evidence. Still, today, that remains part of the narrative surrounding Eric Garner's murder.
The same police source later went on to say, "If you interfere with a police operation you are subject to arrest. This guy pushed the envelope. He's not being targeted. He's being arrested for breaking the law."
Did Orta push the envelope, perhaps a bit too far, when he had audacity to record an NYPD police officer murder an unarmed black man while other officers stood by or took part in the murder?
Orta's lawyers responded to the police's claims, "there does seem to be some sort of concerted activity that raises questions in our mind as to whether police have been targeting watchdogs," said Kenneth Perry, one of Orta's attorneys.
Another one of Orta's attorneys, William Aronin, argued. "There was no reason for him to go through the system and we're glad the police saw reason in releasing him."
We asked Orta how he was treated while in jail.
"Jail was fine. I was sitting there for about ten minutes and everything was normal. Then a lieutenant recognized me and things changed a bit. My lawyers were on the phone negotiating with them to get me out on a desk appearance ticket and some jailers started saying I was getting special treatment and should have to go through the system like everyone else. Some said they'd quit their jobs because they were getting me out; some slammed doors and some of them cursed about it."
Orta explained that because of his extensive arrest history that he doesn't usually qualify for a desk appearance ticket. But after his lawyers talked to the captain at the jail, the captain came down and convinced the other supervisors to release him on a DAT after they took his fingerprints.
Now, Orta told PINAC that the new arrest complicates his pending criminal cases. He has an upcoming court date on March, 23rd. And because of the new arrest, it could violate the conditions of his bonds, which could prompt the court to revoke his current bonds and raise his bail even higher. If that happens, he'll be held on charges he was previously out on bonds for pending the outcome of those charges.
Or they could decide to reinstate the current bonds he's already out on.
Currently, Orta has five pending criminal charges including a weapons charge, two charges for allegedly selling drugs to an undercover cop and two allegations of domestic violence.
Orta gave PINAC a counterclaim about the weapons charge and said the weapon was never in his possession.
He told us police tested the drugs he was accused of selling, but they came back negative. "So now they're saying I stole the money from the cop."
Jessica Orta, Ramey's wife, came to his defense in a youtube about the domestic violence charges he's accused of.
"I'm shooting this video today to address some of the things coming out of the media. Everyone knows that Ramsey and I had somewhat of a whirlwind relationship and we got married very quickly. And anyone who is in a relationship like that, there are bound to be issues. So we had a couple. However, it has gotten to the point where NYPD has escalated it past any reasonable level. And now Ramsey is in custody. For those of you who are familiar with his case, after shooting the video of Eric Garner's murder by Daniel Pantalea, he's been under extreme attack by NYPD. He's been harassed in various forms and that hasn't stopped. We know that the last time he was in custody, they tried to poison him. He had to do a hunger strike. Had he not gotten out, he might not be alive today. I can't believe people have tried to kill him at this point. I mean, it's fucking insane."
Ramsey Orta added about the domestic violence allegations that they went to court and there is no longer an order of protection, so he's able to be near his wife with no restrictions.
We asked if he thought he might have been targeted by NYPD for any reason now or in the past because of race or for being known for filming Eric Garner's murder.
"I live in the biggest city in the state, it's happened to me all my life."
When asked if he had any general comments that he wanted to include in our story Orta replied, "I want to thank all my supporters. I am grateful for them. And tell people to remember . . . that filming police in public is not a crime. Don't forget your rights. We hold what rights we have in our hands. But also be careful when you film. Police also hold your rights in their hands."
Orta may not be a saint, but the world is probably a bit better place after he recorded the tragic and unnecessary death of his friend.
Orta met Eric Garner when he would walk to the store with his daughter and Garner would give his daughter a dollar to buy something at the store.
He recollected, "Every day he would give my daughter a dollar. And one day we just decided to talk from then on. I knew him for about 5 years. He was one of the greatest men I ever knew. He will sleep in power and forever be in my heart. I lived right around the corner from where he was killed."
Regardless of what some may think of Orta's arrest history, his most recent arrest didn't involve a crime or a victim. And he wasn't committing a crime when he gave Sainphor his card, since he was a witness to his arrest.
Anyone with knowledge of first amendment issues knows there is no set distance that someone recording has to be from police when you record them unless you're physically interfering. A cop may arrest you (they can arrest you for almost anything), but unless you were physically interfering, it's probably a loser case for the state–a so-called "dog".
Not to mention it could potentially result in a civil rights claim against the officer or the city if they arrest you for something that's legal like video recording at a close distance.
But Orta is right. You shouldn't stand on their toes or touch them.
Many states have tried to pass legislation to establish a set distance. But legislators ultimately vote against them, because a person wouldn't be able to film their own arrest if they had to stand back 25ft while recording the cop arresting them. And the legislators know an arbitrary distance will be arbitrarily enforced, which is a recipe for disaster.
Not to mention, a law like that simply wouldn't pass the constitutional muster for most judges.
We asked for a copy of the recent arrest video, however, Orta's attorneys indicated they wanted payment for the video and PINAC does not pay for content.
So we'll leave you with the video that went viral and made national headlines when Ramsey Orta recorded the death of Eric Garner after Daniel Pantaleo administered an unauthorized and ultimately fatal chokehold.
Also below is also a video "Ramsey Orta Can't Breathe" where he briefly talks about his history with NYPD throughout his life as well as the importance of using cameras to combat police brutality.
You may also want to visit wecopwatch.org to found out more about how you can combat police brutality and corruption.
Read More
https://photographyisnotacrime.com/2016/03/19/nypd-arrest-ramsey-orta-man-who-recorded-eric-garner-death-for-recording-too-closely/