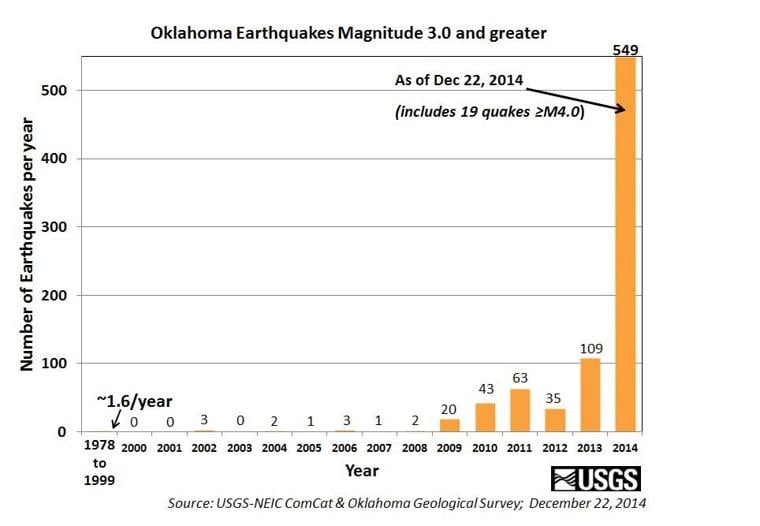 By Jessica Miller
Enid News
There have been more than 500 magnitude 3.0 or greater earthquakes in Oklahoma this year, up significantly from 109 in 2013 and just 35 in 2012, according to U.S. Geological Survey officials.
As of Monday, there were 549 of the higher magnitude quakes in 2014, with 19 being magnitude 4.0 or greater.
USGS officials focused on magnitude 3.0 or greater quakes because the smaller the magnitude, the more potential there is for missing an event, USGS Geophysicist Robert Williams said.
The USGS is looking into the increase in earthquakes, mostly occurring in central and north-central Oklahoma, he said.
"Starting probably in 2009, we started to notice the jump in earthquakes, even though it was small back then, relative to 2014," Williams said.
A new scientific group focused on studying induced seismicity has been formed. There probably are six to 10 researchers working on the issue, with about four or five working full time now, according to Williams.
"This group, along with others from academia, have published a number of papers — eight or so papers in the last couple of years in peer review journals — that point toward water in disposal wells injected deep under ground as contributing to the cause of earthquakes in Oklahoma."
A USGS statement released in May, in collaboration with the Oklahoma Geological Survey, indicated the likelihood of injection wells contributing to the seismicity and noted a higher chance of earthquakes, Williams said.
"Because, the more small earthquakes you have generally leads to the occurrence of more large earthquakes," he said. "So the possibility of a damaging earthquake is higher in the last couple years."