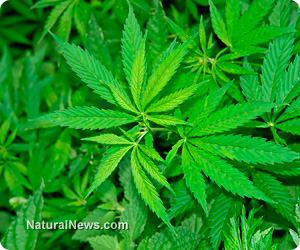 The somewhat surprising results of a new survey recently conducted by Public Policy Polling, one of the nation's premier research groups, have once again realigned the national conversation on marijuana reform, especially in the South. A whopping 54 percent of Georgia voters, it turns out, are now in support of full cannabis legalization, while an overwhelming 62 percent agree that, at the very least, the plant needs to be decriminalized.
According to the figures, the attitude toward marijuana in the Peach State is now on par with that of Colorado, which on January 1 opened up its first recreational cannabis retail stores to individuals 21 years of age and older. Colorado's Amendment 64 referendum, as you may recall, passed with a 55 percent majority vote, which means that the level of support for legalizing marijuana in Georgia is virtually the same as that of Colorado, signifying that major changes are soon to occur.
"The citizens of Georgia agree, marijuana prohibition is a wasteful and destructive policy," stated Sharon Ravert, Executive Director of the Peachtree chapter of the cannabis advocacy group NORML, in response to the findings. "It is time for our state to catch up with public opinion and find a more sensible solution to the status quo."
Conservative Christian politicians also coming around to support marijuana legalization
There has been a major push in Georgia recently to reform the state's oppressive marijuana laws, or even scrap them altogether, and much of this support is coming from those you might not expect. WSB-TV in Atlanta reports that several prominent, conservative lawmakers, for instance, are now in full support of compassionate medical marijuana laws that would both eliminate the penalties associated with possession and use and allow for legal access to the plant.
"I have had a 180-degree change because I've seen how it can impact these kids and how it can impact these families who are now separated because one's here in Georgia, the other one's in Colorado," stated Rep. Micah Gravley, a conservative Christian Republican from Paulding County, to WSB-TV.
Rep. Gravley refers here to the parents of a 10-year-old boy with a serious seizure disorder who has seen amazing improvements through the use of concentrated cannabis oil. The child, who did not respond to any of the conventional treatments offered by his Georgia doctors, is now living in Colorado with his mother and receiving legal cannabis treatment. The boy's father, a police officer in Atlanta, is still in Georgia having to support his family from afar.
Rep. Gravley, it should be noted, used to vehemently oppose marijuana, which just goes to show that a little education on this long-misunderstood plant can go a long way.
"I think there's a strong case being presented by some of the families in some serious situations involving their children," added Georgia Gov. Nathan Deal, indicating his own support for medical marijuana in Georgia.
Cannabis advocacy group delivers 15,000 signatures to lawmakers urging end to prohibition
The group Georgia CARE, "CARE" standing for "Campaign for Access, Reform and Education," is also hopeful that imminent change to marijuana policy is at the door for what some might say is the epicenter of the American South. Members of the group recently attended a major marijuana policy reform rally at the Georgia State Capitol, which openly called on lawmakers to lend their support for ending cannabis prohibition.
"Though it may be surprising to some, these numbers are consistent with a growing trend of support for reform in the southern region of the country," stated Sabrina Fendrick, NORML's Outreach Coordinator for the southeastern region, about the significant progress being made. "Everywhere you look you will see more and more people dissatisfied with the strict penalties associated with current marijuana laws, and an ever increasing number of southerners are ready for a sensible alternative to existing failed policies, including decriminalization."
Sources for this article include: