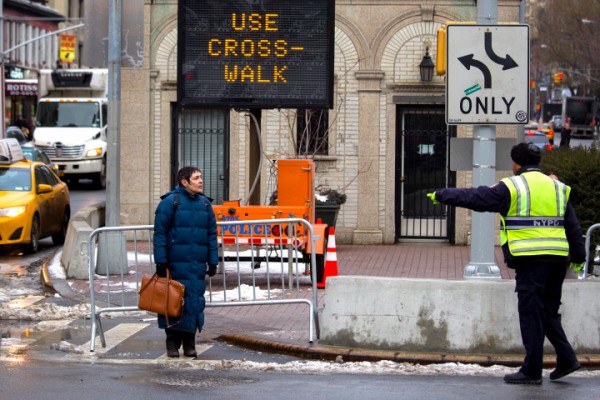 Police Commissioner Bill Bratton is walking to a different drumbeat than most New Yorkers.
In just over two months on the job, he has embraced Mayor de Blasio's vow to cut pedestrian deaths — with the NYPD issuing 452 jaywalking tickets through the end of February, compared with just 50 during the same period last year.
That's a 900 percent increase in summonses, prompting residents to demand the former LAPD boss put the brakes on de?Blasio's crackdown.
Overall, cops issued 531 tickets for all of 2013. New Yorkers say jaywalking is as much a part of city life as horn-honking cabbies and dirty-water hot dogs.
"This isn't LA, commissioner. Leave it alone," pleaded Luis Suarez, 50, a Brooklyn sanitation worker. "You've got more important things to worry about — like actual crime. This is New York. Everybody gets around this way."
South Bronx construction worker Miguel Baez, 50, argued that New Yorkers are too busy to wait for the light or cross at the corner.
"This is what we do. This is how we get around," Baez fumed.
De Blasio campaigned on a promise to cut pedestrian fatalities and serious injuries to zero within a decade. He cited statistics that showed about 250 New Yorkers are killed every year in traffic accidents and thousands more are seriously hurt.
But even the mayor has had trouble following his own advice.
The Post caught him on video jaywalking across a Brooklyn street, a day after his two-SUV motorcade was filmed by TV reporters blowing two stop signs and going over the speed limit in Queens.
Bratton this week told WPIX/Channel 11 that the number of jaywalking tickets issued on his watch was only about 300 and that New Yorkers should "get over it."
But a police source familiar with traffic issues urged Bratton to properly educate the public about jaywalking.
"You're trying to change the culture of New York City. But no one here is going to stand around at a red light with no cars coming. That's ridiculous," the source said.