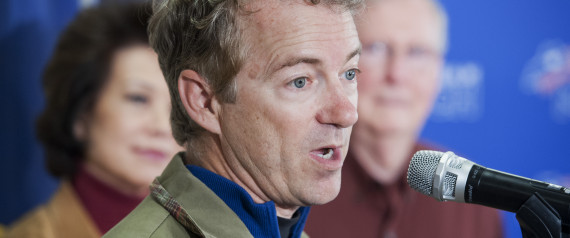 By Deb Reichman
Huffington Post
Republican Sen. Rand Paul introduced a bill on Wednesday that would immediately halt U.S. aid to the Palestinians until they halt their effort to join the International Criminal Court to pursue war-crimes charges against Israel.
Palestinian President Mahmoud Abbas' recent turn to the international court at The Hague marked a major policy shift and transformed his relations with Israel from strained to openly hostile. Abbas has been under heavy domestic pressure to take stronger action against Israel after a 50-day war between the Jewish state and militants in Gaza over the summer, tensions over holy sites in Jerusalem and the failure of the last round of U.S.-led peace talks.
While Palestinian membership in the court doesn't automatically incur U.S. punishment, existing law says any Palestinian case against Israel at the court would trigger an immediate cutoff of U.S. financial support. The Kentucky senator's bill would ban assistance until the Palestinians stop their move to become a member of the court.
U.N. Secretary-General Ban Ki-moon said late Tuesday that the state of Palestine will join the International Criminal Court on April 1. On Monday, the Obama administration said it was reviewing its annual $440 million aid package to the Palestinians because of the decision to join the ICC.
"We are currently sending roughly $400 million of U.S. taxpayer dollars to the Palestinian Authority," Paul said. "Certainly, groups that threaten Israel cannot be allies of the U.S. I will continue to do everything in my power to make sure this president and this Congress stop treating Israel's enemies as American allies."
Paul, a likely Republican presidential contender, generally favors a smaller American footprint in the world and in 2011 offered a budget plan that called for ending foreign aid to all nations, including Israel.
On a visit to Israel in 2013, Paul gave a speech calling for a gradual reduction of foreign aid — despite Israel's status as one of the top recipients of American assistance. The country gets about $3 billion a year in military aid from the U.S. He says even Israeli Prime Minister Benjamin Netanyahu has said that he welcomes a day when Israel is independent of American aid.