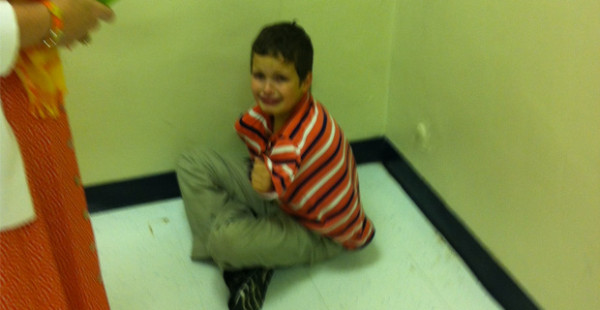 Source: Infowars
A school in Texas has defended its use of a frigid "focus room" where one child claims to have been isolated for more than two days.
Parents Lillian Borjas and Trevor Snowden were disturbed to discover the punishment being meted out to their child at the Carl Schurz Elementary School in New Braunfels.
A blog post entitled The "Focus Room" Horror first published details last week regarding 9-year-old Alex's claims, accompanied by photos taken by the boy's mother of Alex sitting in the corner of the room with his hands tucked inside his shirt.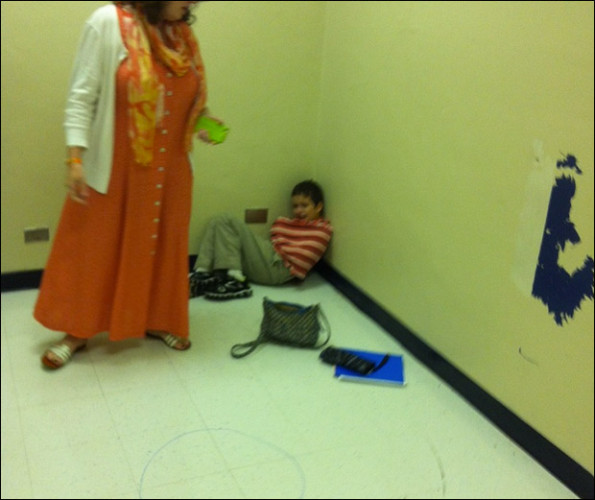 Alex's mother says she was denied access to the room four or five times before the school's vice principal escorted her to see her son.
"Immediately Alex's mom pulled out her phone and started taking pictures as the vice principal tried to block her," the blog states, adding the mother was also unable to re-enter the room in order to photograph the thermostat.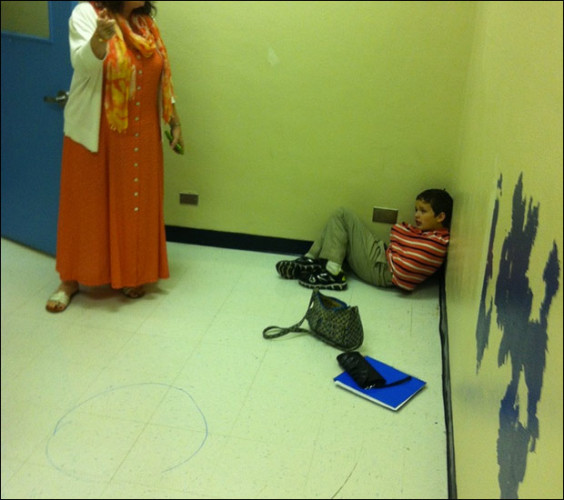 Photos show the young boy huddled in the corner of a small room, in addition to a "hastily drawn" circle in the middle of the floor where Alex was reportedly ordered to sit for an hour and a half in order to earn classroom minutes.
Alex told his parents the room is "where bad children go and serve their in-school suspension (ISS)."
Asked how often he'd been subjected to the room, Alex responded, "Almost every day, once for two straight days."
"I asked if I could get my jacket and was told no," Alex said.
Meanwhile, "the teacher [sic] put her own jacket on and said 'It's sure nice to be warm,'" Alex claims.
The boy went on to assert he's not allowed snacks, bathroom breaks or exercise when in isolation.
"If you have a son or daughter attending Carl Schurz Elementary I strongly encourage asking your child about the 'Focus Room',"the blog's author cautioned, adding "go to the school and ask to see it for yourself, insist on it."
"Isolated, cold, confined to a circle drawn on a floor of a featureless room. Think about that for minute. Who else deploys such tactics? And under what circumstances?"
Admittedly, Alex's parents confirm he sometimes acts out, and that he was recently diagnosed by a pediatrician as having ADHD, which would make it difficult for him to sit still inside of the circle.
The district defended its use of the space, highlighting the difference between a "focus room" and "safe rooms," which are used during emergencies.
"A 'FOCUS Room' is a classroom environment that allows for behavior intervention such as social skills and counseling," the district expressed in a letter.
"What it is, is a space that the child can focus their energy," a spokesperson for the New Braunfels Independent School District explained, professing, "You'll find it in any school district, in any school in the state."
On Friday, the Texas Education Agency lodged a complaint against the district alleging faculty may have violated the Texas Education Code, namely a provision prohibiting educators from confining special needs children to secluded areas "contain[ing] less than 50 square feet of space."
As for the temperature of the room, school officials noted, "It's set district-wide at a certain temperature. There was no intentional way to keep that child cold in that room."
The boy's parents declared this is the last year Alex will be attending public school.
"He will be home schooled," Borjas told KXAN.