India
---
Indian Scientist make sea water drinkable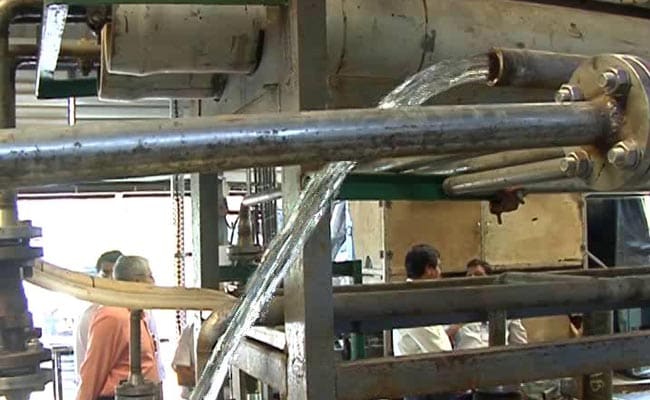 MUMBAI: As 13 states struggle with drought, scientists in a corner of India have devised a way to make potable water – 6.3 million liters of it every day – from sea water.  They have also developed certain filtration methods that ensure groundwater containing arsenic and uranium are safe to drink.
The pilot plant at Tamil Nadu's Kalpakkam, built by scientists of Bhabha Atomic Research Centre use waste steam from a nuclear reactor to purify the seawater. Its capacity is 6.3 million litre every day.
Currently, the fresh water is being used at the Kudankulam nuclear reactor. But this reporter tasted the purified water – it tasted like fresh water, not saline at all.
Several such plants have been installed in Punjab, as well as West Bengal, Rajasthan, said KN Vyas, Director, Bhabha Atomic Research Center, Mumbai.
Pilot plant to convert sea water is at Tamil Nadu's Kalpakkam

Plant has a capacity to produce 6.3 million litres of fresh water a day

The fresh water currently being is used at the Kudankulam nuclear reactor
"Besides, BARC has developed several membranes, by which, at a very small cost, groundwater contaminated by uranium or arsenic can be purified and make fit for drinking," Dr Vyas added.
On his recent visit to BARC, Prime Minister Narendra Modi had pedaled a bicycle that had a water purifier installed on it. It turns dirty contaminated water into potable water. Turning the pedals produces the energy the purifier needs.
The nuclear scientists have also made several household water purifiers that are being marketed all over drought-hit Marathwada. Some these use thin membranes and special filters to separate the contaminants.
Editors note* – A great effort by the scientists no doubt, but when writing such articles, things need to be put into proper perspective. The daily water consumption for chennai city alone is 1200 million liters per day (source wikipedia), so this 6 million is not even one percent..technology for desalination has existed for a while, but what is preventing it is the huge cost, and even if we do spend for it, the volume we can expect to produce is very marginal..
---



SnapChat:

LukeWeAreChange
fbook: https://facebook.com/LukeWeAreChange
Twitter: https://twitter.com/Lukewearechange

Instagram:https://instagram.com/lukewearechange
---
-LIKE-COMMENT-SHARE-
SUPPORT WE ARE CHANGE ALTERNATIVE NEWS NETWORK!
Enroll Today to learn how to be an Independent Journalist
HELP Send Luke To Germany 
-JOIN-
WeAreChange.org is currently looking for Sponsors to Help Support the Effort to get @Luke Rudkowski  out to Germany to coverBilderberg 2016
Sign up Now become a patron and Show your support for alternative news
Every 1$ helps to take media back from the MSM Globalist

Don't forget to visit
Check out the latest WRC custom Gear !
reserved DannyQuest©