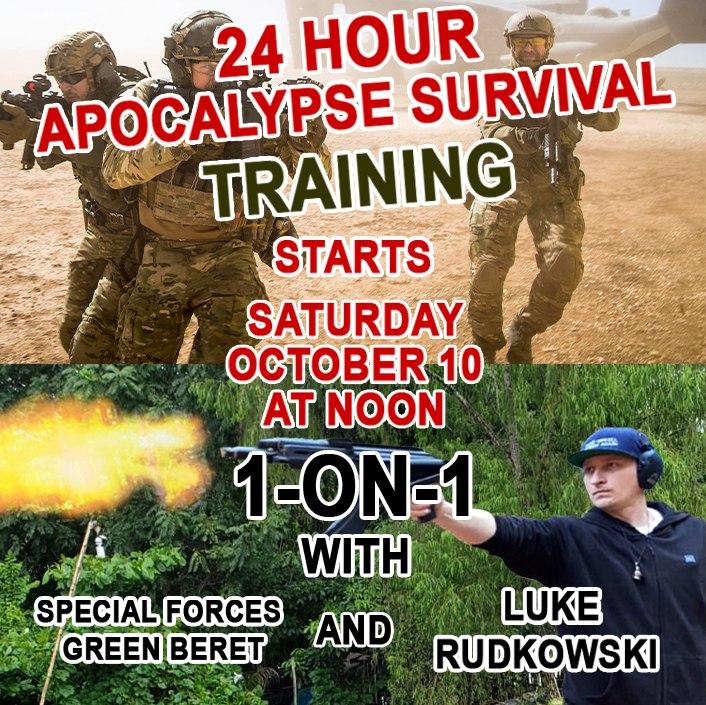 LAST CHANCE THIS YEAR TO TRAIN WITH NEW FREE STATER LUKE'S AND HIS SPECIAL FORCES GREEN BERET MENTOR
If shit hits the fan and you have to go out into the middle of the woods in New Hampshire, away from the world's problems, and make it on your own, would you survive?
By putting into practice what you will learn in this 24-hour intensive training, you will be equipped with the tools to not only survive, but to thrive and to be prepared for anything that could come your way in the wilderness.
You've seen what 2020 has had in store. Food lines. Riots. Global supply chain breakdowns. Heck even toilet paper shortages.
So over the past 2 months, like-minded people who care about their preparedness and their self-defense skills have come together to train and learn 1st hand from myself and my mentor who is a combat veteran who served as a Green Beret in the U.S. Army and is an Eagle Scout!
Me and my mentor have already completed Phase 1 and Phase 2 of our training course. In Phase 1, participants learned how to bug out, how to start a fire and how to use a variety of self defense tools. In phase, 2, participants learned more survival strategy and techniques and went through more advanced self-defense drills, including Close Quarter Battle (CQB) training.
It's now time for Phase 3. The final training of the year with my Green Beret mentor.
Which will start Saturday October 10, 2020 at noon and last until Sunday October 11, 2020 at noon. Again, it will be held in a secret location near Concord, New Hampshire.
Before revealing to you what we have planned for phase 3, let's have a look at what participants are saying about the previous trainings and why they recommend coming to this next event.
WHAT ARE PARTICIPANTS SAYING ABOUT THE TRAINING COURSES?
Keith said — "The training is fun and awesome as well as a great way to meet like minded people from all over."
George said — "The whole experience was well worth it! It was a good day meeting like minded people who wanted to be on guard for whatever can possibly come in the future. The method of teaching made it easy for a first timer to learn these kinds of things. I am looking forward to the next course cause I will for sure be there! Thanks for the awesome day!"
Angela said – "I feel like a learned a lot from Luke and (redacted). They were very funny and were very nice and the instruction was patient and detailed. I had a lot of fun. I think I'll probably go again. I made a few new friends so I'm very happy with the experience."
Jason said he looks forward to attending future events and would recommend the training to everyone:
"The training with Luke and (redacted) was an amazing experience. They taught us enough practical skills about making fires, building shelters and self defense that I feel much better equipped for an emergency survival situation. Further, what we learned are basic life skills that I think everyone should know."
Now for Phase 3…
In this 24-hour intensive apocalypse survival training, you will learn how to:
– Collect and filter water
– Find a shelter
– Build a shelter
– Start and maintain a fire
– Catch, butcher, prepare and cook an animal
– Render first aid
The training will also include:
– Camping out overnight in your own self-made shelter
– Self-defense drills
– And more…
PARTICIPATION LIMITED TO A FEW COMMITTED INDIVIDUALS
IMPORTANT: This is for serious individuals who can actually be in the Concord, New Hampshire area on October 10-11 and who are ready to truly transform their emergency preparedness skill set. You will learn the exact location after enrolling in the course.
You do not already need to be a survivalist or prepper in order to take this intensive 24-hour training. But you must be able to lift 25 pounds and be able to stand up and lie down on the ground a couple times.
Also you do NOT have to be a graduate of our Phase 1 or Phase 2 training. But if you have taken one or both of the trainings, you will be in line for a big discount.
This intensive, overnight training is valued at more than $1,200. Yet you can reserve your spot now and get this course for JUST $245!
Also note: If you have self-defense or survival equipment you would like to bring, after purchasing a ticket you will be asked to email us what you'd like to bring to the training. We will then let you know whether we can accommodate your equipment.
And just so you know, it's not practical to hold any more training's in 2020 at our New Hampshire location. So if you want to train with a Green Beret before this apocalyptic year ends, now is your last chance.
ACT NOW
We have limited availability for this exclusive survival training.
Don't miss out on this last-chance opportunity to receive 1-on-1 in-depth, overnight survival training with myself and my Green Beret mentor.
Reserve your spot now and lock in the early bird rate by paying by PayPal or Bitcoin.
Bitcoin – 3F5s7fRgAQpvxMrRFhqzpfK3LYDKJZrRc9 *please put your email in memo so we can message you details
We also take Gold, Silver and Bullets as payment more info about that is available by emailing joshfriedmanmedia@gmail.com