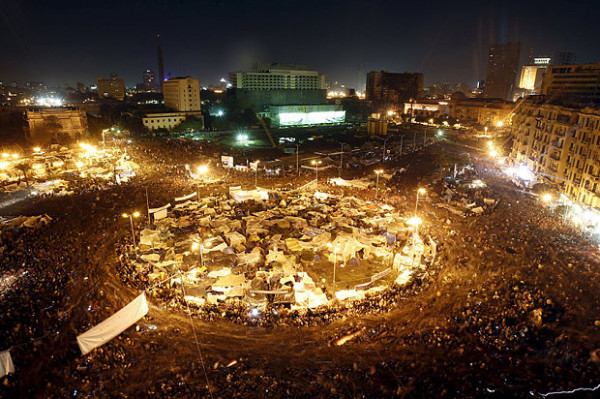 Of all the freedoms Egyptians thought they had won with the Tahrir Square Revolution, the one they thought irreversible was the right to demonstrate.
Hundreds of young protesters were killed during the uprising against Hosni Mubarak that began exactly five years ago on Monday. The "Angry Youth" stirred the hearts of the world as they marched, prayed and sang their way to overthrowing 30 years of President Hosni Mubarak's dictatorship.
The family of Mahmoud Mohammed Hussein might beg to differ. Mahmoud was just 18 when he was arrested on the revolution's anniversary two years ago, after attending a commemorative event in a tee-shirt with the seemingly uncontroversial logo "A Homeland without Torture".
Not that there is any real certainty about why he was seized. In those two years, he has been moved from jail to jail without ever being charged or being brought before a court.
"Mahmoud is growing up in prison," his brother, Tareq, told The Sunday Telegraph last week. He said his sibling was starting to think he had been forgotten, but tried to remain positive.
"'Mahmoud told us in a letter: 'don't wake up a prisoner because his dreams are of freedom," Tareq revealed. He added that one of the jails in which his younger brother had served time was that set aside for men on death row.
"Imagine the psychological damage for a young man when he goes through all this."
January 25, 2011 was the day that two young activists raised a banner of protest against the Mubarak regime, and set off the domino line of protests around the region that has turned the Middle East upside down.
Until then, that date had been marked in Egypt's official calendar as Police Day, an occasion to express patriotic gratitude to the country's law enforcement community.
But Wael Ghoneim and Abdel Rahman Mansour, who had previously set up a Facebook page in memory of Khaled Said, a young man beaten to death in police custody, decided to make their commemoration ironic.
Their new Facebook page set up for Jan 25 was called "The Revolution of the Egyptian People".
They were not alone. A raft of "civil society" NGOs began organising more formally, and after the January 25 protests were violently broken up, a major rally was called for after Friday prayers later in the week. January 28 was designated "The Day of Rage", a name which subsequently spread across the Arab world, and it saw running battles between police and demonstrators across Cairo and other major cities.
Eighteen days later, it was all over. Undermined by a withdrawal of support from key backers like America and Britain, President Mubarak was forced to step down. The uprising had cost the lives of 846 people, but the Military Council that stepped in to assume the mantle of power promised a transition to civilian power.
Five years later, Egypt still claims to be a democracy, but following the 2013 coup against the elected Muslim Brotherhood government, a new military man is ruling with a firmer rod of iron than ever Mr Mubarak did.
In waves of arrests, General Abdel Fattah el-Sisi has overseen the rounding up of tens of thousands of Muslim Brotherhood members and liberal activists, from the streets and their homes.
"Egypt is mired in a human rights crisis of huge proportions," Amnesty International said in a statement to mark the anniversary.
"The hopes that the '25 January Revolution' would herald a new era of reforms and respect for human rights have been truly shattered.
"Egyptians have been made to watch as their country reverts back to a police state."
After the 2013 coup, the military opened fire on Muslim Brotherhood-led protests, making it brutally clear that sit-ins of the sort that seized hold of Tahrir Square in 2011 would not be tolerated again. On August 14 that year, police and troops opened up on crowds occupying the square in front of Cairo's Raba'a Mosque, killing at least 600 people on what still remains the single bloodiest day of the "Arab Spring".
By a year later, there were estimates that 40,000 people had been detained in the subsequent house-to-house arrests. One estimate says that has now risen to more than 50,000.
At least Mahmoud Mohammed's family know where he is. Hundreds of Brotherhood supporters and others were initially taken to "black jails" – unregistered detention centres, some on military bases.
Some have never resurfaced. Last Monday, the interior ministry issued a list giving the whereabouts of 99 people whose relatives claimed they had been "disappeared" – seized with no jail or police cell indicated for them.
But one of the 99, Ashraf Shehata, turned out to be a different inmate of the same name. His wife, Maha al-Mekawi, says that now even police and prison officials hold up their hands in despair when asked about her husband, who was a member of the liberal Dostour (Constitution) Party.
Ashraf Shehata pictured with his wife Maha Hassan El mekawy
Ashraf Shehata pictured with his wife Maha Hassan El mekawy
He went missing after being summoned for an interview with the all-powerful state security in January 2014. In her searches for him, she was at one stage even interviewed by the organisation's chief, who swore on the Koran he was not in their custody.
Instead, officials suggested he might have gone abroad, since he had his passport with him when he disappeared.
"It is true that Ashraf had the passport with him before he left the house," she said. "But how did the State Security know that?"
The regime has successfully sought both Western and Russian backing, presenting itself as a key ally against Islamic State of Iraq and the Levant, which now has a branch wreaking havoc in the Sinai.
It has also played on division among Egypt's traditional allies over the best response to the Arab Spring. Britain had been one of the earliest countries to engage with the Muslim Brotherhood in Egypt, and had supported liberal reformists, while its diplomats had become disillusioned with the ageing President Mubarak's refusal to spread power outside his own circle.
However, the experience of both Muslim Brotherhood rule in Egypt and the Islamist takeover of many of Libya's post-Gaddafi institutions has induced a more hard-headed approach from Downing Street.
With particular encouragement from London, foreign investment is now coming back into Egypt, widely regarded over the past few years as an economic basket-case. "It's a mixed picture now," said Angus Blair, the British head of Signet, a Cairo business consultancy. The economy was fragile but functioning, he said.
Mr Blair also pointed to the single biggest economic factor influencing Egypt's future prospects – perhaps a cause of the Arab Spring itself: the Arab world's burgeoning and youthful population, in a region of slender environmental resources. The Egyptian population is growing by well over two per cent a year.
This month, Egypt's first post-coup parliament was elected and began work, packed with supporters of Mr Sisi. Egypt's future now depends on whether he can either enforce his hard-line rule through a band of supporters that is narrowing – even within the army, by some accounts – or relax the tentacles of the security state without coming under threat.
"This regime is more violent than Mubarak," ??said Hazim Abdel Azim, a political activist who supported Mr Sisi's rise to power but has since become disillusioned. Like many activists, he is now convinced that the eventual toppling of Mr Mubarak, although apparently designed to end military rule, was tacitly supported by the army to preserve it.
Mr Mubarak had been intent on passing power to his son, Gamal, whose promotion of free market business principles was a threat to the generals' large financial interests.
"The events of 2011 were a military coup against Mubarak," he said. "The revolution was great and worthwhile, but eventually what took it in this direction was the generals."
There have been further round-ups of activists in the last week, to send a message that no commemorative presence in Tahrir Square on tomorrow's anniversary will be tolerated, let alone another uprising.
Mr Abdel Azim said none should be expected. "There is nothing called a opposition in Egypt now," he said. "All other political forces are either desperate, or dispersed."
http://www.telegraph.co.uk/news/worldnews/africaandindianocean/egypt/12117357/This-regime-is-more-violent-than-Mubarak.-There-is-no-opposition-now.html?sf19500750=1