Luke begins his live stream walking around the grounds at UC Berkeley. Ann Coulter was due to speak but has canceled her appearance over safety fears.
13:11 –  The empathy tent is back!
LIVE: Battle For #Berkeley

The Empathy Tent is back!!! pic.twitter.com/tsKl9Hov1a

— Anon Emy (@Anon_Emy) April 27, 2017
13:27 – Luke says hello to Lauren Southern who will be speaking at the event today.
.@Lauren_Southern is now seen appearing on the @WeAreChangeNYC #LIVE stream.#Berkeley pic.twitter.com/9TruMhI9g0

— Anon Emy (@Anon_Emy) April 27, 2017
13:37 – A person holding a /pol/ sign to remind people that the group is watching. They are from the website called 4chan. They will find out who you are and are not afraid to expose you if you are being violent.
Is that you @polNewsNet?#Berkeley #BerkeleyProtest pic.twitter.com/opxxDaSNXK

— Anon Emy (@Anon_Emy) April 27, 2017
13:51 – Luke and Tim Poole discuss this:
And that's just in the first 15 mintues.. check out the full video- almost 4 hours of coverage!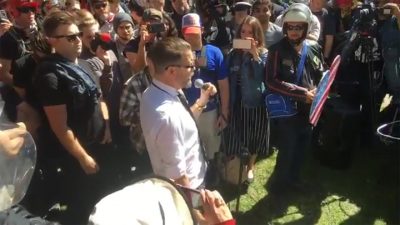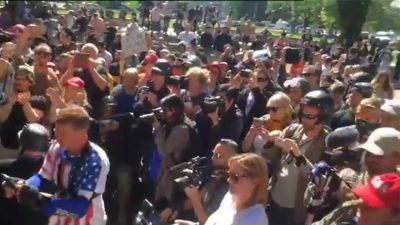 If you liked today's broadcast, please consider donating to us. We have a whole team of writers behind this operation, not just Luke.  YouTube and Google Adsense are both severely hindering our ability to keep this operation going. We won't be able to continue to bring you broadcasts like this if things keep up. You can donate here on the website or on our patreon. Thank you and remember We Are Change.