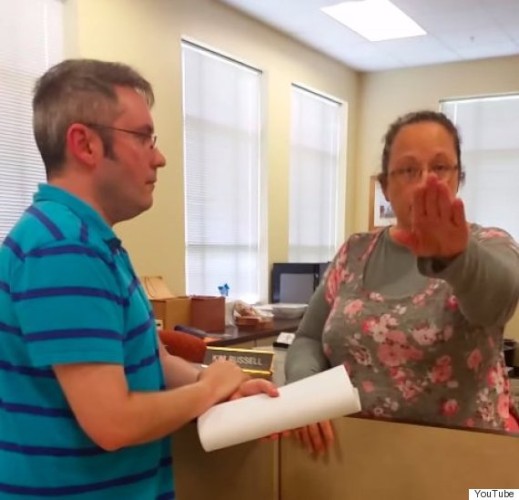 (thenewcivilrightsmovement.com)A video depicting a Kentucky county clerk denying a same-sex couple a marriage license after the police were called has gone viral.
The depths of hate, homophobia, and religious indignation were on full display Monday when David Vincent Moore and his fiancé went to their local county courthouse to request a marriage license.
They clearly have been denied before, so this time they brought someone to film the event, and the result is stunning.
After waiting over 10 minutes in the Rowan County, Kentucky courthouse, a police officer is summoned and then allows the couple to approach the clerk's counter. They are told the clerk is "busy," but when she finally appears she demands they stop recording – despite the fact that they have a legal right to do so.
The clerk, Kim Davis, is being sued by the ACLU for refusing to carry out her duties of issuing marriage licenses. She is being represented, of course, by Liberty Counsel.
Moore in the video shows Davis a letter from Kentucky Governor Steve Beshear directing all clerks to comply with the Supreme Court same-sex marriage decision, as well as the complete Supreme Court ruling.
She refuses.
RELATED: 'Based Upon My Personal And Christian Beliefs': Ohio Judge Refuses To Marry Same-Sex Couple
"Ms. Davis has the absolute right to believe whatever she wants about God, faith, and religion, but as a government official who swore an oath to uphold the law, she cannot pick and choose who she is going to serve, or which duties her office will perform based on her religious beliefs," ACLU of Kentucky Cooperating Attorney Laura Landenwich said in a statement.
Davis says, wrongly, "What has happened is that five lawyers have imposed their personal view of what the definition of marriage should be on the rest of us. And I, as a Christian, have strong views, too. And I know I don't stand alone."
Watch the encounter below. There's a long waiting period in the middle. At about the 9:30 mark it heats up:
http://www.thenewcivilrightsmovement.com/davidbadash/video_of_kentucky_clerk_denying_same_sex_couple_marriage_license_after_cops_called_goes_viral