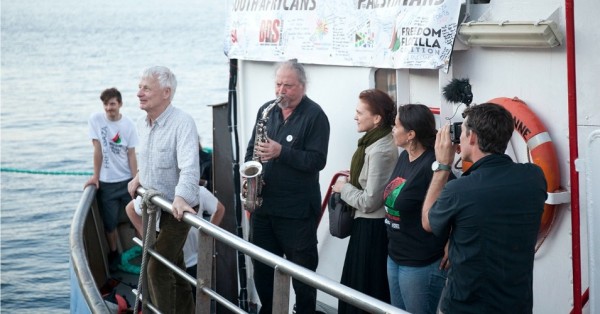 (commondreams.org)More than three boats carrying over 50 people from at least 20 countries will take to the sea in coming days with an ambitious aim: to break the siege of Gaza and send a message of freedom and resistance to the world.
"We are sailing because we promised we would until the blockade is lifted," Loukas Stamellos, spokesperson for the global Freedom Flotilla Coalition, told Common Dreams over the phone from Athens, Greece.
Under the banner of Freedom Flotilla III, the ships will embark from various ports in Greece in the "next few days," and organizers will soon disclose the full number of vessels participating, Stamellos explained.
One boat, Marianne of Gothenburg, already started in Sweden and stopped at ports along the way to Greece, in a bid to raise awareness and support for the campaign.
These vessels, however, will represent far more people than they carry. "This is the joint work of campaigns from Spain, Sweden, Norway, Greece, Canada, Italy, the United States, and many other countries," explained Stamellos.
Perhaps most importantly, organizers say they are heeding the call from Palestinians in Gaza. "Freedom Flotilla III is invited by Palestinians in Gaza through various organizations that work for a relief of the thousands that were left heavily wounded, homeless, jobless, and displaced after recent Israeli operations in the Gaza Strip," said the global coalition in a statement released Thursday.
Stop!
We Interrupt This Article with an Urgent Message!
Common Dreams is a not-for-profit news service. All of our content is free to you – no subscriptions; no ads. We are funded by donations from our readers.
Our critical Mid-Year fundraiser is going very slowly – only 1,097 readers have contributed so far. We must meet our goal before we can end this fundraising campaign and get back to focusing on what we do best.
If you support Common Dreams and you want us to survive, we need you now.
Please make a tax-deductible gift to our Mid-Year Fundraiser now!
Donate Now!
The vessels will sail despite numerous attacks on boats that have attempted to break the blockade in the past, including the 2010 Israeli assault on the Mavi Marmara ship sailing from Turkey that killed nine people and injured dozens, sparking global condemnation. Gaza's Ark, which Palestinians planned to sail from the Gaza Port, has sustained numerous attacks, including during last summer's 50-day Israeli assault that killed at 2,134 Palestinians—the vast majority of them civilians.
Israel's military siege, which is backed politically and financially by the United States, and also includes Egypt, has plunged Gaza into a humanitarian crisis that has dramatically worsened since last summer's seven-week Israeli invasion, with the blockade making it nearly impossible to rebuild destroyed civilian infrastructure, from homes to schools to hospitals.
Israel has already threatened to prevent this new wave of "unauthorized boats" from entering "its" waters. But the Freedom Flotilla coalition says the only thing illegal is Israel's blockade of Gaza—one of the most densely populated places on earth with a population of 1.8 million people.
Robert Naiman, U.S.-based spokesperson for the coalition behind the vessels, told Common Dreams, "This flotilla is coming from international waters to Gaza."
"Israeli authorities and their supporters want to have it both ways," Naiman continued. "They want to say that Gaza is not under occupation at the same time they are saying that Gaza's waters are Israeli waters, even though this is recognized by no one. This flotilla is forcing that contradiction into the open."