Posted better late than never
Members of WE ARE CHANGE Ottawa and Truth Action Ottawa went out to Rideau Centre on June 11th,2011 as part of "The Eleventh of the Month" campaign to hand dvds and to get petition signatures for the Canadian 9/11 Investigation Petition.
http://www.wearechangeottawa.org
http://www.ottawatruthseekers.ca
http://ottawatruthseekers.ca/petition-to-the-government-of-canada
http://www.torontohearings.org
Stay tuned for very big news about the Canadian 9/11 Truth petition for a Canadian Investigation into the events of 9/11 in the coming weeks / months….
Thomas Kean: "aftershocks" from planes caused collapse of WTC Building 7
On September 13th, 2011, Thomas Kean, Chair of the 9/11 Commission and Former Governor of N.J., gave a lecture for the The Drew Forum, a series of public lectures at Drew University located in Madison, New jersey. We Are Change was tipped off to the event by http://www.youtube.com/FreedumbFighter28 and attended. After the lecture, a question and answer session was opened up to the audience. When We Are Change asked Thomas Kean to address the collapse of WTC Building 7, which was not hit by a plane, and was not mentioned once in the 9/11 Commission Report, his answer was simply shocking.
Kean claims the Bureau of Standards Final Report on the collapse WTC Building 7 found that "aftershocks"
from the planes hitting the twin towers caused the foundation of Building 7 to weaken and collapse. First, it is important to note that the National Bureau of Standards changed its name back in 1988 to the National Institute of Standards and Technology, or NIST. Second, no where in NIST's Final Report does it say that aftershocks from the impact of the planes into the Twin Towers caused or even had a factor in the collapse of Building 7. In fact, NIST claims Building 7 was brought down by fire.
However, NIST's Final Report has come under harsh criticism from highly reputable sources. A recent documentary released by Architects and Engineers for 911 Truth, which you can watch for free right now (http://www.youtube.com/watch?v=lw-jzCfa4eQ), details meticulously the flaws and illogical conclusions brought forward by NIST.
How is it that the Chair of the most important criminal investigation of our lives doesn't even know the official government story behind the collapse of Building 7? Furthermore, why does he make up a theory that is more illogical and more preposterous than the official version released by NIST, essentially baking a layer cake of lies? I think it's time for a REAL 9/11 investigation.
SUPPORT THE RESISTANCE http://www.wearechange.org/?page_id=9453
Read The Entire Article Here Please Comment,
Part About WeAreChange:
It's what historians of 9/11 – which is what the activists and investigators essentially are – value most: the paper trail. Documents, statements, memos. This is the grist of history. And if some of the 9/11 activists can tend, sometimes, towards the obsessive, it's generally an obsession with data. And to have that data withheld? It's murder.
So when, at the tail end of LibertyFest, longtime 9/11 activist Luke Rudkowski tells me of the 2.5 terabytes of data from the Able Dangerterror investigations that were deleted, it's with genuine pain in his eyes. It's a Ming vase that's smashed on the floor. It's Wayne Rooney looking at a squashed banana. It's a tragedy.
I asked Rudkowski what the "Truthers" were planning for the day. "This year, we're all about paying our respects to the dead. We're sending out a solemn message: we don't know what happened on 9/11, yes we have questions, but on the day we're not asking them. We're going to stand in respectful silence."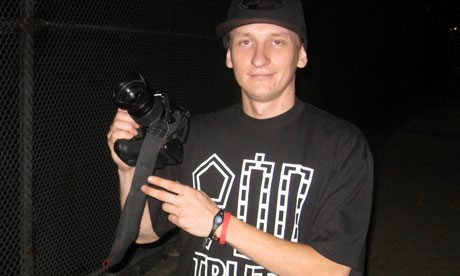 Luke Rudkowski Photograph: Charlie Skelton
But on the night before, Rudkowski is happy to ask. Why, from the 78 security cameras that surround the Pentagon, have we been shown just a few blurry frames? Why has the FBI classified its official investigation into the fact that some of the hijackers were trained at US military bases…?
And what would he say to those who'd scoff at asking such questions? "I'd say, look at the evidence and make up your own mind. And remember, 9/11 is a gigantic event that's going to affect us all for the next hundred years, but it's an event a lot of people know very little about."
And with that, I slid away from the party, and bought some toothpaste from a late night store. I'm not going to mark the tenth anniversary of 9/11 with dirty teeth. I'm glad that the New York Truthers aren't planning anything big and brash for the anniversary. The living will still have their questions, documents will need to be declassified, evidence sifted and lies challenged, but the anniversary of 9/11 is about the dead. The truth can take the day off.
Help We Are Change produce more videos like this!http://www.wearechange.org/?page_id=9453
http://www.facebook.com/LukeWeAreChange
http://www.twitter.com/LukeRudkowski
http://www.WeAreChange.org
Architects & Engineers for 911 Truth
http://www.ae911truth.org/
Remember Building 7 is a non-partisan campaign led by 9/11 family members to raise awareness of the destruction of World Trade Center Building 7 through television and other forms of advertising, and to shift public opinion such that the New York City Council and Manhattan District Attorney will be compelled to open an investigation into Building 7?s destruction.
http://rememberbuilding7.org/10/
music Gemineye "Ambushed" By Conspiritualityhttp://www.youtube.com/watch?v=b4QEbONuxiw
http://www.facebook.com/LukeWeAreChange
http://www.twitter.com/LukeRudkowski
http://www.WeAreChange.org
WeAreChange tries to give another meaning to relentless, as they yet again confront the chair of the 9/11 commission report Thomas Kean. No surprise Kean does what all politicians do when confronted by wearechange, evade and run away from legitimate questions. If this does not show you we need a new investigation into 9/11, I don't know what does.
Please share this video with your friends and family as the 10th anniversary of 9/11 approaches to demand a REAL 9/11 INVESTIGATION. Sorry for the audio problems the $10 microphone we use acts up sometimes. More surprises still to come, subscribe to the WeAreChange channel to see more in the upcoming days. Special thanks for Dustin D for the assistance with camera work and editing.
music: LOWKEY ft M1 (DEAD PREZ) & BLACK THE RIPPER – OBAMA NATION PART 2 http://youtu.be/bB-vYuYhdSE
Special thanks to Dennis "DL" Lichtchouk of http://www.dlbeatsrhymeslife.bandcamp.com
and http://www.lacosamusic.com for volunteering and fixing the audio.