The farce is complete…
Burisma Holdings, Ukraine's largest private gas producer, has expanded its Board of Directors by bringing on Mr. R Hunter Biden as a new director.
R. Hunter Biden will be in charge of the Holdings' legal unit and will provide support for the Company among international organizations. 
A trove of Clinton White House records long processed for release remains  hidden from public view at the Clinton Presidential Library in Little Rock — even though the legal basis initially used to withhold them  expired more than a year ago.
The forthcoming report of the Privacy and Civil Liberties Oversight Board, the arm's-length body established by the Congress to investigate NSA spying, has leaked, with details appearing in The New York Times and The Washington Post.
From its pages, we learn that the board views the NSA's metadata collection program — which was revealed by Edward Snowden — as illegal, without "a viable legal foundation under Section 215, implicates constitutional concerns under the First and Fourth Amendments, raises serious threats to privacy and civil liberties as a policy matter, and has shown only limited value…As a result, the board recommends that the government end the program."
We Are Change Chicago
10/13/2011
CHICAGO, IL- As the mainstream media and the powers that be continue to throw new puppets into the race for the GOP's top spot. Their latest love child Herman Cain has come out of nowhere. The Washington Times Reports Cain as the new GOP front-runner, and according to the new NBC/Wall Street Journal poll Cain leads former Massachusetts governor Mitt Romney by just 4 points. But questions continue to rise surrounding Herman's days as Kansas City Board President of the Federal Reserve Bank; as the general public discovers the actions of this Private Central Bank as well as his close ties to former Fed President Alan Greenspan. Speaking to We Are Change Chicago reporters Julio Noel Rausseo and Tim Marszalik, at Tea Con 2011 outside of Chicago, Cain defends the role of the Private Central bank. He's asked about the constitutionality of the Federal Reserve, and whether or not its right that this private banking cartel prints money out of thin air, while at the same time devaluing their beloved Federal Reserve Note.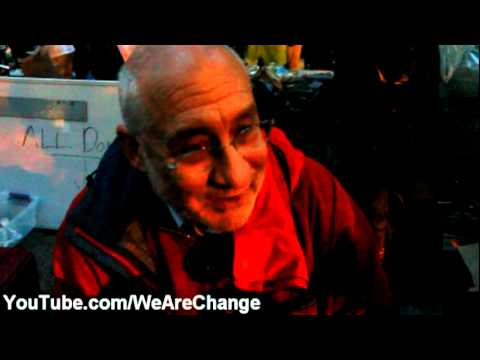 Help We Are Change produce more videos like this and continue our coverage of #occupywallstreet http://www.wearechange.org/?page_id=9453
Source for Geithner quote http://www.eutimes.net/2011/09/europe-stunned-after-being-told-obama-is-not-i…
Joseph Eugene Stiglitz, ForMemRS, FBA, (born February 9, 1943) is an American economist and a professor at Columbia University. He is a recipient of the Nobel Memorial Prize in Economic Sciences (2001) and the John Bates Clark Medal (1979). He is also the former Senior Vice President and Chief Economist of the World Bank. He is known for his critical view of the management of globalization, free-market economists (whom he calls "free market fundamentalists") and some international institutions like the International Monetary Fund and the World Bank. Read more at http://en.wikipedia.org/wiki/Joseph_Stiglitz
http://www.facebook.com/LukeWeAreChange
http://www.twitter.com/LukeRudkowski