Media views that deviate from the mainstream are more often than not condemned and it seems RT has not been able to escape this trend. A Jewish rights group has branded RT "anti-Semite" over a satirical sketch lampooning Israel's policy on Palestine.
US President Barack Obama's former speechwriter Jon Lovett coined the phrase "the culture of shut up" where views that do not conform are silenced by often misplaced moral outrage. To name but a few recent cases, former CEO of Mozilla Brendan Eich was silenced and forced to resign after it hit headlines he had supported California's Proposition 8 which sought to ban same sex marriages. While Somali activist Ayaan Hirsi Ali fell afoul of the mainstream for her criticism of Islam, which sparked outrage among religious groups.
An American anchor working for state-owned television station Russia Today quit on air on Wednesday. Liz Wahl, in the network's D.C. bureau, announced she could no longer be "part of a network that whitewashes the actions of Putin. I'm proud to be an American and believe in disseminating the truth, and that is why, after this newscast, I am resigning."
The vast bulk of the commentary issuing from American commentators about the Russian military action in Ukraine involves condemning exactly that which they routinely advocate and which the U.S. itself routinely does. So suffocating is the resulting stench that those who played leading roles in selling the public the attack on Iraq and who are still unrepentant about it, such as David "Axis of Evil/The Right Man" Frum, have actually become the leading media voices condemning Russia on the ground that it is wrong to invade sovereign countries; Frum thus has no trouble saying things like this with an apparently straight face: "If Russia acts the outlaw nation, can it be expected to be treated as anything but an outlaw?"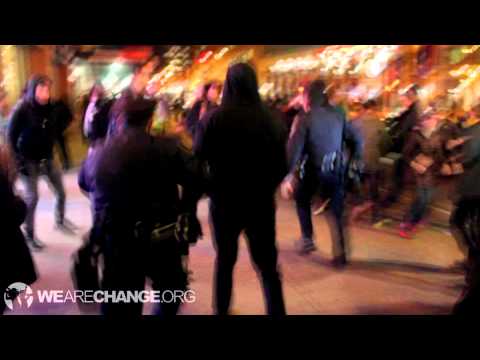 Lower Manhattan has been invaded by tens of thousands of protestors who are calling for an end to corporate corruption. The demonstrators have been peaceful and the violence surprisingly has been from the NYPD. Last night a second round of police brutality was served out to some. Luke Rudkowski, an independent journalist, was caught up in the baton swings and pepper spray; he gives us his firsthand account.