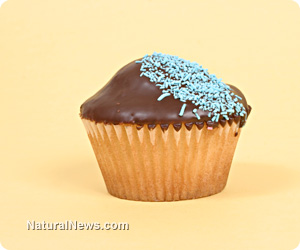 For more than two years, 11-year-old Chloe Stirling of Troy, Illinois, has been baking cupcakes out of her family's house and selling them to friends and neighbors in her local community, a successful business endeavor that has put the child well on track to purchasing a car by the time she is old enough to drive. But local health officials recently demanded that young Chloe immediately cease all baking operations, accusing the budding entrepreneur of running an "illegal" food operation.
According to the St. Louis Post-Dispatch, the Marion County Health Department is accusing the sixth-grader and her family of violating health code by not preparing the cupcakes in a separate kitchen or bakery, which it says is required by law. Obviously cost-prohibitive for a home-based business that generates about $200 a month in profits, the Stirlings are in no position to do that and have never had an issue with anyone getting sick from their offerings.
But this is of no issue to the department, which is insistent that Chloe's family either construct a massive addition to their abode or rent commercial space — if neither of these happen, they say, then Chloe must stop using the mixer that her grandparents bought her and the small mini-fridge her parents gave her to lovingly craft cakes and treats for things like cancer fundraising events.
"They called and said they were shutting us down," explained Chloe's mother, Heather, to the Post-Dispatch, noting that the family was told to "buy a bakery or build her a kitchen separate from the one we have. Obviously, we can't do that. We've already given her a little refrigerator to keep her things in, and her grandparents bought her a stand mixer."
Young Chloe targeted by Health Department just days after local media reported about her successful business
The timing of the crackdown is highly suspect, as just a few days prior, the Belleville News-Democrat (BND), a local paper, covered Chloe's amazing work. Referring to it as art, BND featured Chloe's tantalizing buttercream frostings, unique cake designs and youthful passion as a trophy of American entrepreneurship, and the very manifestation of that upon which our country was built.
Chloe's success apparently drew the attention of health officials, who were quick to denounce the innocent labor of love as being "illegal." When asked why the county decided to make this aggressive move against an innocent child engaging in the equivalent of a bake sale or lemonade stand, Health Department spokeswoman Amy Yeager expressed little empathy.
"The rules are the rules," she is quoted as saying. "It's for the protection of the public health. The guidelines apply to everyone."
But not everyone is buying this lame excuse for institutionalized government abuse of personal liberty. With a two-year track record of safety and plenty of happy customers, many of the Stirlings' friends and neighbors, not to mention a groundswell of support from across the country and world as the story spreads, are outraged that law is being bastardized in such a way as to oppress youthful ambition and productivity.
"Talk about killing her enthusiasm and energetic spirit," writes one Post-Dispatch commenter about the situation. "[L]eave it to Madison county… to shut down a wonderful young entrepreneur. Get back to the bigger issues people. Let this young lady do something for the sake of good, learning the value of a dollar, and testing out her abilities as a possible businesswoman or chef of the future!"
Sources for this article include: