A suspect is dead following an active shooter report on Ohio State University's campus. The university issued a warning telling its students at campus to shelter in place just before 10am. The first reports of gunshots came from Watts Hall, which is home to the school's Materials Science and Engineering program. Law enforcement on the ground believe the situation is contained after they stormed a nearby garage just before 11am where the shooter(s) were believed to be hiding. Minutes later they confirmed one suspect was dead and two other men, one black and one white, were also apprehended.
At least eight people were injured and taken to hospitals following the report of an active shooter on the Ohio State University campus Monday. One of the eight victims is in critical condition, Columbus Fire spokeswoman Rebecca Diehm said.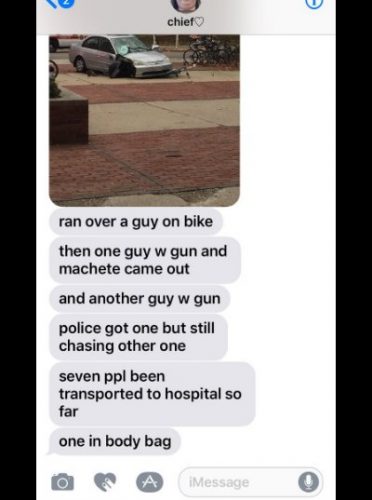 Report + Photo – Car Crash, Shooting, Machete Attack #OhioStateUniversity pic.twitter.com/Vjozi7S5ji

— Jack Posobiec (@JackPosobiec) November 28, 2016
The report and photo above apparently taken by a student at the university coincides with reports of multiple shooters. The report claims the suspects arrived in a car and exited the vehicle after running over an individual on a bike. Two male suspects exited the vehicle with guns and another male came out with a machete. Police shot and killed one individual, but it is unknown at this time whether the two males who were apprehended were the other individuals exiting the car although we can assume so.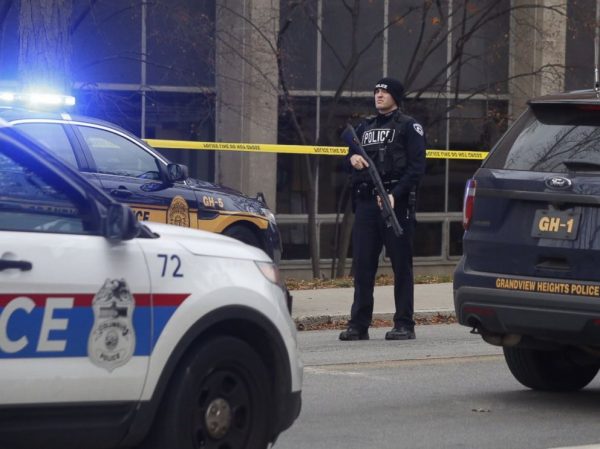 OSU senior Anthony Falzarano, 22, said he was in class at the time of the shooting. "We heard a lot of sirens. I was in class and everyone got a text message at the same time for the emergency alert," he told CNN. "Someone said they heard popping right before we got the alert, but I didn't hear it. We are in a shelter-in-place right now in the building next door. "
Some students piled chairs against a door to barricade themselves. "I'm safe in a barricaded room," Harrison Roth tweeted. "If you're on campus, get in a room and stay safe." Sophomore Wyatt Crosher said he heard gunfire from across the street.
In addition to local authorities and SWAT, the Bureau of Alcohol, Tobacco, Firearms and Explosives is on the ground in Columbus, spokesman Dave Coulson said.
Ohio State University's main campus in Columbus is one of the largest in the United States with more than 65,000 students enrolled across the state. Classes were canceled for the rest of the day across campus following the shooting.
Sources: http://www.dailymail.co.uk/news/article-3978944/Active-shooter-reported-Ohio-State-University.html http://www.cnn.com/2016/11/28/us/ohio-state-university-active-shooter/index.html?sr=twCNN112816ohio-state-university-active-shooter0402PMStoryLink&linkId=31649479 http://www.foxnews.com/us/2016/11/28/developing-active-shooter-alert-at-ohio-state.html