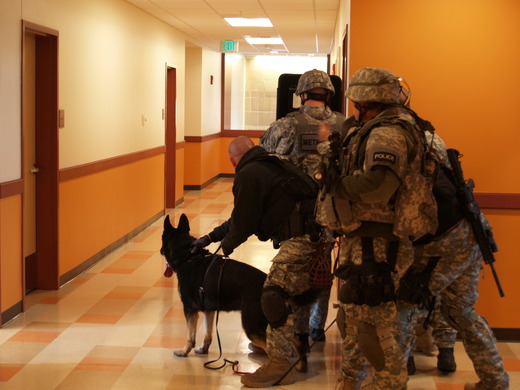 Noe Niño de Rivera spent nearly two months in a medically induced coma after a Texas school resource officer shocked him with a Taser in November 2013. Niño de Rivera, who was 17 at the time, had been trying to break up a fight between other students, his attorney said, though the officer claimed he had been trying to diffuse the violence and the teen interfered.
The shock from the Taser knocked Niño de Rivera to the ground. He hit his head and sustained a severe brain injury. The incident changed his life and deeply affected his family members.
It was "emotionally devastating for them to see their 17-year-old son in a coma," said Adam Loewy, the family's attorney. "When this happened, the parents stayed by his bedside for three straight months, day and night — literally from crack of dawn to 11 o'clock at night. It put them in very serious economic danger."
In Birmingham, Alabama, school police officers regularly use another type of weapon to subdue students. Since 2006, over 1,000 area students have been directly or indirectly exposed to pepper spray at school, according to a Southern Poverty Law Center lawsuit arguing that the school district should be held to stricter standards regarding the use of chemical spray. At least three of the students who were pepper sprayed ended up in the hospital.
The number of police officers based in schools started ballooning in the late 1990s, and spiked after the 1999 Columbine High School massacre and the 2012 shooting at Sandy Hook Elementary School. The number of students being seriously injured by chemical spray and stun guns raises questions about the role of law enforcement officers on school grounds and how much force they should be allowed to use against children.
Since Sept. 1, 2014, at least 25 children and several faculty members around the country have sought medical attention after school-based police officers used pepper spray, Tasers and stun guns, according to a national survey of local news reports by The Huffington Post. These numbers probably don't paint the entire picture, as it's likely that some incidents go unreported.
Source: Huffington Post