Source: Nation of Change
[At the end of this article, watch Luke Rudkowski confront CNN's Anderson Cooper's CIA connection]
A recently released analysis by PunditFact revealed that out of every statement made by a Fox News host or guest, over half of them were completely false. What's more, only 8% percent could even be considered "completely true."
But for anyone who regularly tunes into the conservative news show, such revelation is nothing new. PunditFact only confirmed what many have been aware of for a while now: Fox News lies – like, a lot.
What might be most intriguing is that despite the blatant spin doctoring of the show, Fox News still captivates a large portion of the news watching audience. Programs like "The O'Reilly Factor" and "The Kelly File" cause a staggering amount of viewers to tune in on a regular basis, and given what we know about the content Fox shares, such is concerning.

As you can see, Fox's statements range mostly between "Mostly False" all the way to "Pants on Fire"… and only 40% can even be said to fall into the category of "Somewhat True."
But keep in mind it's not just Fox that tends to weave more tales than truth…
MSNBC, for example, which some might call Fox's liberal counterpart, is just as guilty of misleading its viewers. However, they also tell the truth more than they lie, and their "Pants on Fire" percentage is half of what Fox scored.
CNN, however, ranked very well in comparison to the other news sites, gathering a 40% "Mostly True" score.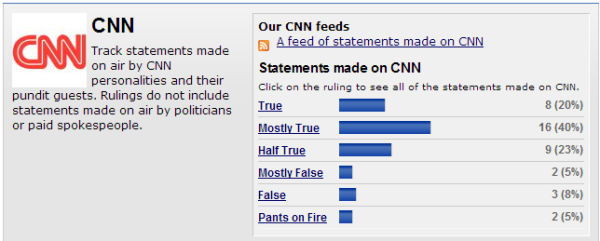 But before you decide to place all your trust in CNN and write off FOX, PunditFact urged a bit of caution:
The comparisons are interesting, but be cautious about using them to draw broad conclusions. We use our news judgment to pick the facts we're going to check, so we certainly don't fact-check everything. And we don't fact-check the five network groups evenly. CBS, for instance, doesn't have a cable network equivalent, so we haven't fact-checked pundits and CBS personalities as much.
AddictingInfo brought to attention a great survey conducted by PublicMind out of Fairleigh Dickinson University. What was discovered is that "people who say they consumed no news" fared better on a current events questionnaire than people who had been using Fox News to figure out the current events of the world. Go figure. 
But if you truly are seeking to stay up-to-date on current events, NPR audience members were found to be most informed.
In conclusion, question everything, seek truth in all situations, and if watching Fox News, definitely switch the station.