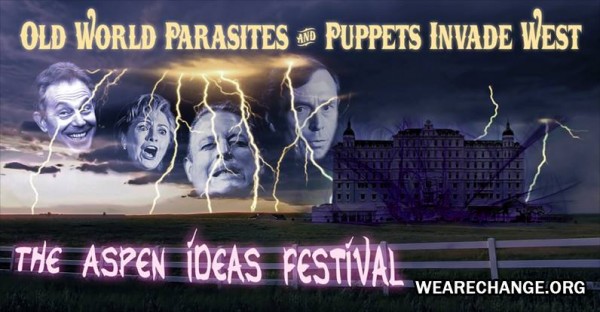 What do Hillary Clinton, Al Gore, Tony Blair, David Petraeus and Newt Gingrich all have in common?  All of them attended the "Afternoon Conversation" held in Aspen, Colorado, (6/30), at the Aspen Ideas Festival, which runs from June 27th until July 3rd.  The festival is hosted,by The Aspen Institute, for the purpose of 'engaging in deep and inquisitive discussion of the ideas and issues that both shape our lives and challenge our times.'  "We are imagining 2024."
The ideas being discussed at the Aspen Ideas Festival make some wonder if this is comparable to Colorado's own Bilderberg conference.  Over 350 presenters will take part in 200 sessions with a wide variety of topics ranging from terrorism, NSA spying, big data, gun control, transhumanism, combating climate change, global government, biotechnology (GMOs), fracking and many more. (Click here for full schedule of events.)
Before selling out, tickets were priced between $2800-$8500.  Those prices may shock some, but the 3,000 elite attendees who purchased tickets aren't worried about outlandish prices.  The attendees can avoid the hassle of Denver International Airport, fly their private jets straight to Aspen's private airport and be at their hotels within minutes.
It's important to note, this Aspen Ideas Festival coincides with the end of the Global Clinton Initiative, which was held in Denver from June 23rd-25th.  Click here to see Hillary Clinton deny attending Bilderberg, while signing her new book in Denver.
The public needs to stay informed when the leading Presidential candidate openly meets with a former Director of CIA, a former British Prime Minister and the Presidents of many of the main banks, media organizations and Fortune 500 companies running the world, including Monsanto's President Brett Begemann.
But that's not all.  The heads of the NSA, FDA, EPA and FTC will be joining United States Trade Representative Michael Froman, along with the heads of the Council on Foreign Relations, Rockefeller Foundation, The Carlyle Group and the Bill and Melinda Gates Foundation.  (Click here for the full presenter list.)
Although no official mention was made about the Transpacific Partnership (TPP), or Transatlantic Free Trade Agreement (TAFTA), it's certainly a good possibility the elites will be finalizing the globalist trade agreements that have been described by some as, 'NAFTA on steroids.'
Even House of Cards creator Beau Willimon appeared; video can be viewed here.
Will these globalist achieve their agenda?
Not if we stand up and stop them.
——————————————————————————————————————————————————-
Bruce Baumann – Bruce@WeAreChangeColorado.org