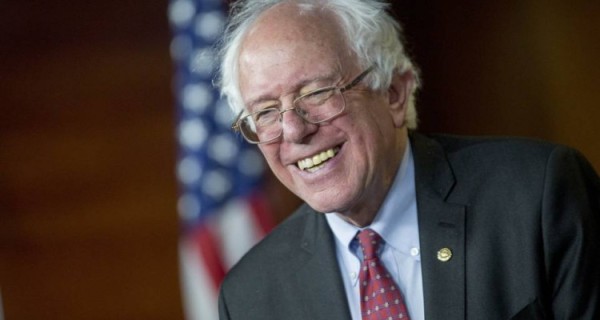 Democratic presidential candidate Bernie Sanders and his wife steered campaign and nonprofit money to family and friends, according to damaging new report. While this activity was not illegal, it is at odds with Sanders' anti-corruption rhetoric which he has built his campaign on.
But alas, such is socialism! While Bernie is off advocating more state power to take more private wealth from individuals, he is also busy making sure his friends and family profit in every was possible. That doesn't sound very proletarian of comrade Bernie.
The Free Beacon reports:
Bernie Sanders and his wife have on numerous occasions steered money from organizations under their control to friends and family members, public records show.
The payments benefitted the wife of the Democratic presidential candidate, his stepdaughter, and the son of a former colleague in city government whom Sanders has described as a close friend.
Sanders, a self-described socialist, is now running for the presidency on an anti-corruption platform, decrying public officials' attempts to use their positions for personal financial gain.
Following 16 years as a member of the House, Sanders was elected to the Senate in 2006. His political campaigns were an early vehicle for payments to his family members.
The senator from Vermont has painted himself as an enemy to politicians that would use their positions to enrich themselves and their families, all the while doing exactly that. As Free Beacon reported, Sanders political campaigns have long been used as a vehicle for payments to family members. The hypocrisy is astounding.
Then again, this is the man who claims after 30 years in politics that he is not a career politician. One begins to wonder if Senator Sanders is a bit less crazy-kooky and bit more of a fraud.
Gawker writes:
Early on, Sanders' wife—Jane O'Meara Sanders—and his stepdaughter, Carina Driscoll, both received salaries from his early political campaigns. (Sanders' House campaign reportedly paid O'Meara Sanders $90,000 for "consulting and ad placement services from 2002 to 2004." Driscoll, too, got paid $65,000 between 2000 and 2004.)
But as Free Beacon found, that's the just the beginning of the Sanders's shady money arrangements:
After working for the campaign, the senator's wife would come under scrutiny for expenditures at Burlington College, where she was hired as president in 2004. While she led the school, it paid six-figure sums to her daughter and the son of a family friend.
Burlington College offered its students a study abroad program in the Caribbean, according to tax filings. It reported spending about $47,000 on that program in the tax year beginning in mid-2008.
Around that time, the son of Jonathan Leopold, a Burlington College board member, purchased a small resort in the Bahamas called Andro's Beach Club and an accompanying hotel, Nathan's Lodge.
Leopold served with Sanders in the Burlington city government—as mayor, Sanders appointed Leopold city treasurer—before becoming embroiled in scandal involving millions of dollars in payments to a Burlington telecommunications company.
It really shouldn't be any surprise to anyone that a self admitted socialist sees no problems with redistributing money to their family and cronies.
Read more: http://thelibertarianrepublic.com/bernie-sanders-and-wife-redistributed-campaign-nonprofit-money-to-friends-and-family/#ixzz3wbNZt1XF
Follow us: @TheLibRepublic on Twitter