Because Bernie Sanders now confirms that he will "in all likelihood" vote for Hillary Clinton come November, and says he will do everything he can to make sure Donald Trump is defeated.
Last Friday morning, on June 24th during a CNN interview Bernie Sanders said that he will most likely vote for Hillary Clinton for president come November.
The statement, made on MSNBC's "Morning Joe," was an answer as to whether Bernie would vote for Clinton, but Sanders has not said he will end his bid for president.
Some of us in the alternative media saw this move coming back in may when,
Bernie was interviewed by George Stephanopoulos on ABC News "This Week", when asked if  he would support Hillary Clinton for President he said:
STEPHANOPOULOS: So if you lose in this nomination fight, will you support the Democratic nominee?

SANDERS: Yes. I have in the past.

STEPHANOPOULOS: Not going to run as an independent?

SANDERS: No, absolutely not. I've been very clear about that.
After saying "yes" when asked whether he would vote for Clinton, Sanders quickly pivoted to slamming presumptive GOP nominee Donald Trump.
"I think the issue right here is I'm gonna do everything I can to defeat Donald Trump,"

he said, saying

Trump would be "a disaster

for this country if he were to be elected."

"We do not need a president whose cornerstone of his campaign is bigotry,"

Sanders continued. "This is not somebody who should become president."
While Sanders said his goal right now is "to fight for the strongest possible platform in the Democratic convention," Clinton's campaign is funded by corrupt Wall Street bankers and she supports invading Syria and passing the economy-destroying Trans-Pacific Partnership (TPP), all actions Bernie supposedly ran to oppose.
RELATED: Everyone is Working For Hillary. Bernie Sanders is "Sheepdogging"
-LIKE-COMMENT-SHARE-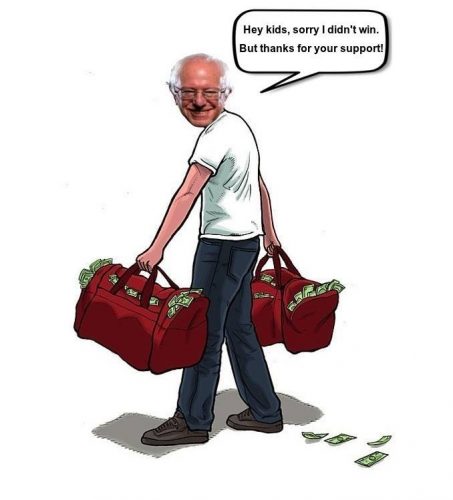 ---
Danny F. Quest is a official 9/11 Truther, anti-war activist, humanitarian,  Blogger, and writer/contributer  for WeareChange.org  Follow him on Social Media.
---

---
Sign up Now and become a patron To Show your support for – We Are Change – 
For Just 1$ a month you can help us Grow !

We use Bitcoin Too !  
12HdLgeeuA87t2JU8m4tbRo247Yj5u2TVP