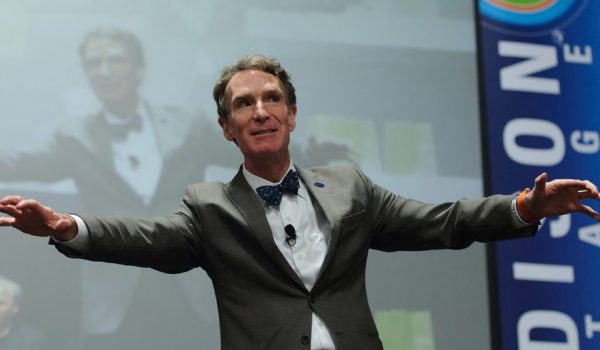 Bill Nye "the science guy" says in a video interview released Thursday that he is open to the idea of jailing those who deviate from the climate change consensus.
Asked about the heated rhetoric surrounding the climate change debate, such as Robert F. Kennedy Jr.'s previous comments that some climate skeptics should be prosecuted as war criminals, Mr. Nye replied, "We'll see what happens."
"Was it appropriate to jail the guys from Enron?" Mr. Nye asked in a video interview with Climate Depot's Marc Morano. "We'll see what happens. Was it appropriate to jail people from the cigarette industry who insisted that this addictive product was not addictive, and so on?"
"In these cases, for me, as a taxpayer and voter, the introduction of this extreme doubt about climate change is affecting my quality of life as a public citizen," Mr. Nye said. "So I can see where people are very concerned about this, and they're pursuing criminal investigations as well as engaging in discussions like this."
Mr. Nye's comments come with a coalition of liberal attorneys general pursuing companies that challenge the consensus of catastrophic climate change. Critics fear the campaign could chill research and free speech.
Virgin Islands Attorney General Claude E. Walker raised concerns about a government crackdown on dissent when he issued a subpoena last week to the free market Competitive Enterprise Institute for its climate-related research and documents.
About the potential for a "chilling effect," Mr. Nye said, "That there is a chilling effect on scientists who are in extreme doubt about climate change, I think that is good."
"The extreme doubt about climate change people — without going too far afield here — are leaving the world worse than they found it because they are keeping us from getting to work. They are holding us back," Mr. Nye said in a post on Climate Depot, a project of the free market, nonprofit Committee for a Constructive Tomorrow.
Mr. Morano interviewed the star of the 1993-98 PBS television show "Bill Nye the Science Guy" in New York in advance of the May 2 theatrical release of "Climate Hustle," which takes a skeptical look at predictions of climate change disasters.
The film, along with a panel discussion, was scheduled for a screening Thursday in the House Science, Space and Technology Committee.
Read More
http://www.washingtontimes.com/news/2016/apr/14/bill-nye-open-criminal-charges-jail-time-climate-c/