US Customs and Border Protection proposal would see Facebook, Twitter and other social media accounts requested on landing and visa forms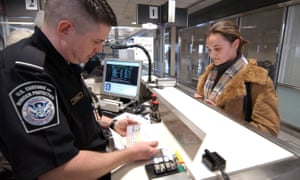 The US government is proposing making social media accounts part of the visa screening process for entry into the country.
US Customs and Border Protection's proposed change would add a line on both the online and paper forms of the visa application form that visitors to the US must fill out if they do not have a visa and are planning on staying for up to 90 days.
The following question would be added to both the Electronic System for Travel Authorization (Esta) and I-94W forms: "Please enter information associated with your online presence—Provider/Platform—Social media identifier."
The information will be optional, for now, but the proposed change published by the US Federal Register states that "collecting social media data will enhance the existing investigative process and provide Department of Homeland Security (DHS) greater clarity and visibility to possible nefarious activity and connections by providing an additional tool set which analysts and investigators may use to better analyze and investigate the case."
The proposal is currently under consultation, with US government taking comments until 22 August.
The change forms part of the plan by the US DHS to scrutinise social media activity of visa applicants and those wishing to enter the country, following the San Bernardino killings in California, in which social media profiles formed part of the investigations along with an iPhone 5C.
Current DHS pilot programmes are being kept under wraps but are said to scan a limited amount of social media posts.
The pilot programmes currently used by DHS do not sweep up all social media posts, though government officials have kept details of the programmes closely held, as they do not want to reveal the precise process they use to try and identify potential threats.
It's unclear if or how the DHS would verify information written on a form before hitting border control, leaving the possibility of false information being put down, and while the information may be optional, it will likely be difficult to discern what is and isn't required on the form.
The US government approves around 10m visa applications a year and had 77.5 million foreign visitors in 2015. Collecting social media accounts for all visitors could produce one of the largest government-controlled databases of its kind almost overnight.