After the deadline for a $600,000 ransom had expired, 70 year old Jurgen Kantner was beheaded in a video of the killing.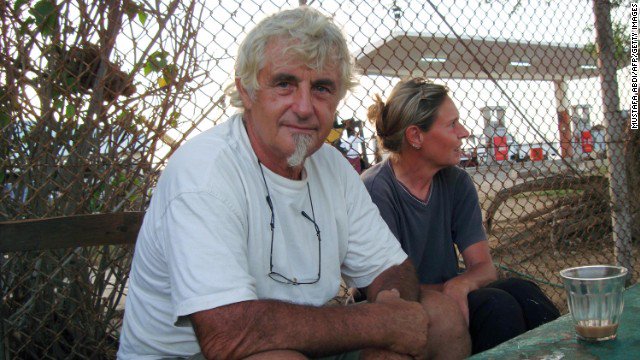 Both The Phillipines and Germany confirmed and condemned the Monday beheading of the elderly captive by Abu Sayyaf militants tied to ISIS. They posted a video of the execution after a deadline for his ransom passed, Reuters reports.
The video depicted a machete-armed militant who beheaded Kantner, following a plea for help in two short video messages, claiming he would be killed if the ransom was not paid. Jesus Dureza, presidential adviser on the Phillipine peace process, stated officials had gone through all possible methods to save Kantner, who was held on the tiny island of Jolo in the southern Sulu province.
"We grieve as we strongly condemn the barbaric beheading of yet another kidnap victim. There must be a stop to this killing of the innocent and the helpless," Dureza added.
However, Dureza had made no comment on the ransom in his interview on the killing. The Phillipines' military pledged to bring Kantner's killers to justice, and to pursue further opportunities to save hostages taken by Abu Sayyaf. German chancellor Angela Merkel called for a global front against terrorism, condemning the barbaric act. Her spokesman, Steffen Seibert added, "the chancellor condemns this hideous attack that shows, once again, how unprincipled and barbarous terrorists act. We've all got to stand together in the fight against terrorists."
Abu Sayyaf – "Bearer of the Sword" – is a radical Islamist organisation that exploits the ongoing instability within the Southern Philippines by laundering tens of millions of dollars from piracy and ransom payments. They stockpile these resources primarily into weapons, boats, and up-to-date navigational assets. Kantner was captured in November when sailing on a 53-footer yacht near Sabah, in eastern Malaysia. He was subsequently brought to Jolo. His partner was executed when she resisted the militants.
The Philippines' armed forces have had violent encounters with Abu Sayyaf in the past. Twelve soldiers were killed by Aby Sayyaf militants in a skirmish in August 2016, also on the southern island of Jolo.
The radical militants currently hold captive 26 hostages; of which 13 are Vietnamese, seven Filipinos, one Dutch National, a Japanese, two Indonesians, and two Malaysians, reports claim. Experts believe they are unwilling to free any without ransom payments. Philippines Foreign Secretary Perfecto Yasay spoke to the U.N. Human Rights Council in Geneva, claiming Malina was seeking technological aid from allies to specify the hostages' locations.
Kidnappings for ransom payments have been a long-term lucrative business in the Sulu region, and the trend has continued to rise in recent years.