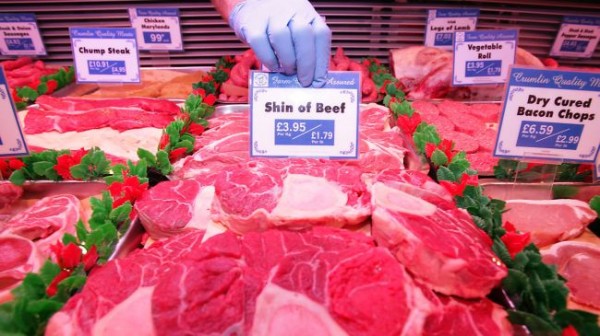 Inside sources say that the nearly 9 million pounds of beef recalled from a California Slaughterhouse earlier this month may come from cows sick with cancer.
Rancho Feeding Corp., a Northern California company, which is now under investigation by the US Department of Agriculture, recalled 8.7 million pounds of beef parts (3.95 million kg) as ordered by inspectors for lack of full federal inspection and processing unhealthy animals.
The company allegedly purchased dairy cows sick with eye cancer, decapitated them to hide the disease from inspectors and sold the beef illegally, an anonymous source has told the San Francisco Chronicle."Rancho, we're told, was slaughtering them, somehow after hours or in other ways where the inspector didn't know about it," the source revealed. "Because the carcass looked good, (Rancho) mixed it back in with other beef that it sold under its label."
Rancho's lawyers have forbidden employees from speaking to the media.
Bill Niman, the former owner of Niman Ranch who is widely considered a pioneer of humane and sustainable livestock farming, also processed his cattle at Rancho. He did not rule out the claims since according to him Rancho is one of the only facilities that slaughters retired dairy cows which are often not very healthy.
"A farmer sends a cow in with cancer, and he knows it has cancer-eye — it's a growth on the eye, this is not a microbial situation," he told the Village Voice. "The inspectors, they know it has cancer-eye. So the farmer shouldn't have sent it, and the inspector should have caught it."
Experts say cows inflicted with eye cancer are not necessarily dangerous to eat unless the cancer has spread to other organs.
"If I'm out on top of Mount Everest and have a cow (with eye cancer) and I'm hungry, I'm going to cook her well and deal with getting down the mountain," James Cullor, professor of population health and reproduction at the School of Veterinary Medicine at the University of California, Davis, told the Chronicle. "But if I'm here in this country, I will choose to not consume the animal. I wouldn't feed the animal to my grandchildren."
The amount of the recalled meat equals one year's worth of meat products processed by Rancho Feeding Corp, which has been under investigation by USDA Food Safety and Inspection Service, according to the Associated Press.
The USDA listed 18 categories of beef parts that are subject to recall, such as feet, lips, cheeks, hearts and tongues. They are in boxes of up to 60 lbs (27 kg).
Last month, in another case, the same company was forced to recall more than 40,000 pounds of meat product, processed on Jan. 8, that weren't fully inspected, FSIS said.
Unhealthy meat product can cause serious and adverse health consequences, FSIS said. The agency issued a Class I recall, as some products could be still frozen and in storage.
No illnesses have so far been reported in relation to the beefs.