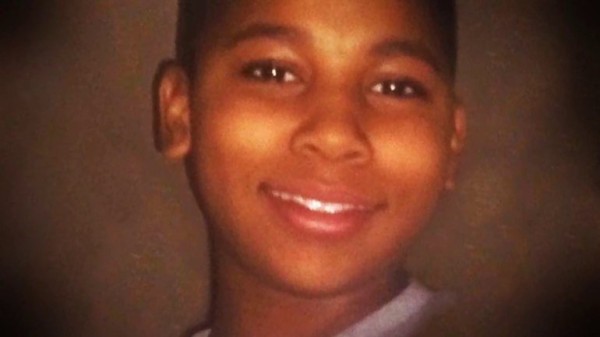 The Cleveland police officer who fatally shot 12-year-old Tamir Rice last year will not face state criminal charges, the Cuyahoga County prosecutor's office announced Monday.
The decision by grand jurors was the end of a lengthy investigation that was criticized by Tamir's family and by activists, who called the shooting senseless and said the officer should have been charged with murder months ago.
Tamir, who was black, was carrying a replica gun outside a recreation center when someone called 911. The caller cautioned that Tamir was probably a juvenile and that the weapon was "probably fake," but that information was not relayed to the two officers who responded, Timothy Loehmann and Frank Garmback.
Continue reading the main story
RELATED COVERAGE
Six Video Frames at the Center of the Tamir Rice CaseDEC. 23, 2015
Surveillance video, which has been widely circulated online, showed Officer Garmback pulling the police cruiser within a few feet of Tamir, and Officer Loehmann, who is white, stepping out of the car and almost immediately firing his gun. Tamir died hours later. His partner, Officer Garmback, was also not indicted.
Photo
A screenshot from a video that showed the police arriving at the Cudell Recreation Center, where Tamir was shot. Credit via Cleveland Police Department
Timothy J. McGinty, the county prosecutor, who made the announcement at a news conference, said that while "this was a perfect storm of human error," the evidence considered by a grand jury over two months "did not constitute criminal action by police." He noted that the law gives the benefit of the doubt to a police officer "who must make a split second decision."
Mr. McGinty said it was "indisputable" that Tamir was drawing the weapon from his waistband when he was shot — either to hand it over to the officers or to show them that it was not a real firearm. But Mr. McGinty said there was no way for the officers to know that as they pulled up.
He said he "appreciated the sincere emotion and concern of all citizens" but asked the community to "respect the process."
In a statement, Gov. John R. Kasich said that he understood "how this decision will leave many people asking themselves if justice was served," but urged residents not to "give in to anger and frustration and let it divide us."
Advertisement
Continue reading the main story
Mr. McGinty said that he told Tamir's mother about the grand jury decision shortly before he made it public. "It was a tough conversation," he said, adding "she was broken up and it was very hard."
A statement from the office of Jonathan S. Abady, a lawyer representing the Rice family, said Tamir's relatives were "saddened and disappointed by this outcome — but not surprised."
"It has been clear for months now that Cuyahoga County Prosecutor Timothy McGinty was abusing and manipulating the grand jury process to orchestrate a vote against indictment," the statement said. "Even though video shows the police shooting Tamir in less than one second, Prosecutor McGinty hired so-called expert witnesses to try to exonerate the officers and tell the grand jury their conduct was reasonable and justified."
Tamir was shot on Nov. 22, 2014, two days before a grand jury in Missouri declined to indict the white Ferguson police officer who fatally shot Michael Brown, an unarmed black 18-year-old. Though Cleveland did not experience protests as large or frequent as in Ferguson, Tamir's death infuriated demonstrators across the country, and the case has become among the most prominent in a national debate over race and policing.
Advertisement
Continue reading the main story
Advertisement
Continue reading the main story
The official investigation into Tamir's death moved slowly, with the county sheriff's office taking over for the police department, and then the prosecutor's office conducting its own inquiry after the sheriff's inquiry concluded. Fed up with the pace, some activists used an obscure provision of Ohio law to seek the arrest of the two officers. Though a judge found that probable cause existed for some charges, neither officer was arrested.
Mr. McGinty released a redacted version of the sheriff's investigation months ago, and in recent months has published three independent reports by use-of-force analysts who found that Officer Loehmann had acted reasonably in shooting Tamir.
Continue reading the main story
Breaking News Alerts
Sign up to receive an email from The New York Times as soon as important news breaks around the world.
Mr. McGinty, who commissioned the reports but said they would not taint the fairness of the grand jury process, was criticized by Tamir's family, who suggested that the investigation was rigged and that an indictment was all but impossible.
The Rice family also commissioned outside reports on the shooting, which found that the shooting was unjustified and that the officers used poor tactics in responding to the scene.
Neither Officer Garmback nor Officer Loehmann has spoken publicly about the shooting, though both men read statements to grand jurors about their actions that day. Officer Loehmann told the grand jury that he fired out of fear for his safety after Tamir reached into his waistband and grabbed the replica gun, which he believed to be real.
In his statement, Officer Loehmann said that he saw the boy "reaching into his waistband" and "pulling the gun out" before firing his own weapon.
Tamir's family has questioned Officer Loehmann's account of the shooting, and has sued the city and both officers in federal court.
Since Tamir's death, questions have been raised about Officer Loehmann's qualifications and about the Cleveland police's standards on the use of force. Records show that Officer Loehmann resigned from another Ohio police department after a "dangerous loss of composure" during firearms training. The Cleveland police did not review that department's personnel file before offering Officer Loehmann a job.
For years, the Cleveland police have been criticized for being too aggressive in their use of force, and for broader failures in management, record keeping and training. In May, the city agreed to a sweeping consent decree with the Justice Department that required broad changes in how officers use and report force, and which placed the police under the supervision of an independent monitor.
Tamir is among several black people whose deaths at the hands of the Cleveland police have raised questions in recent years. In 2012, 13 Cleveland officers fired a combined 137 rounds at Timothy Russell and Malissa Williams, both unarmed, after the car Mr. Russell was driving fled police. One officer was charged with manslaughter in the case, but was acquitted in May at a bench trial. Last November, Tanisha Anderson, a 37-year-old black woman said to have suffered from mental illness, lost consciousness and died in police custody after she was placed facedown on the pavement. An investigation into her death is continuing.
Mr. McGinty presents evidence in all fatal police encounters to a grand jury, but some activists have questioned the fairness of the process, and have noted that indictments are generally unlikely unless one is sought by a prosecutor.
In the Rice case, family lawyers have said for months that they have little confidence that Mr. McGinty wanted the officers charged. The lawyers have called for a special prosecutor to take over the case, and have asked the Justice Department to investigate.
In a statement on Monday, Justice Department officials said they would "continue our independent review of this matter, assess all available materials and determine what actions are appropriate, given the strict burdens and requirements imposed by applicable federal civil rights laws."