Article via ZeroHedge
In a "mass layoff" event reported late last week by the Department of Labor, the Clinton Foundation announced it would lay off some 22 employees at the Clinton Global Initiative, which attained notoriety during the John Podesta leaks, when the various details of the fallout between between CGI head Doug Band and Chelsea Clinton were revealed; it also emerged that long-time Bill Clinton friend Band was soliciting donations for Clinton through his PR firm, Teneo in an sordid example of "pay for play" which most of the mainstream media refused to cover, especially after Band emailed Podesta "If this story gets out, we are screwed."
Filed as mandated by the Department of Labor's Worker Adjustment and Retraining Notification, or WARN notice, on January 12, the Clinton Foundation's Veronika Shiroka advised the DOL that as part of a "Plant Layoff" it would layoff 22 workers on April 15, with reason for the dislocation stated as "Discontinuation of the Clinton Global Initiative." The layoffs are part of the Clinton plan put in motion ahead of the presidential election, to offset a storm of criticism regarding pay-to-play allegations during Clinton's tenure as secretary of state.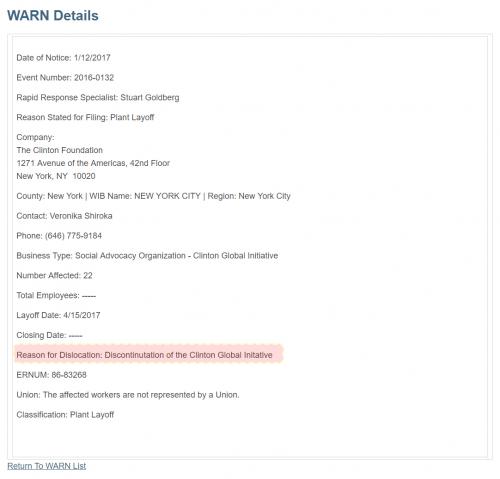 As the Daily Caller notes, the layoffs were reportedly announced internally in September, ahead of Clinton's stunning loss to President-elect Donald Trump. Many other employees had already begun looking for or accepting other jobs at that time, as it had become clear the future of the initiative was in doubt. It's unclear how many of the once 200 strong staff might remain at the Clinton Foundation in some other capacity.
As a reminder, while the FBI has cleared Hillary Clinton of wrongdoing regarding her use of a private email server, a parallel probe into the Clinton Foundation regarding allegations of corruption is still ongoing.
The decision to sunset the Clinton Global Initiative reportedly set off a dispute within Clinton Foundation circles regarding the best way to handle the fallout from the allegations. Some complained the layoff process was "insensitively" handled, Politico reported, while others took issue with the optics of allowing anyone with the Clinton Global Initiative to stay on.
And while CGI is now officially being "discontinued", the same fate likely awaits the Clinton Foundation itself following news in the aftermath of Hillary Clinton's loss to Trump that Australia has cut its donations to the foundation to $0, while the far more generous Norway likewise slashed its donations by 87% as the political cout of the "charitable" organization dried up and as the opportunity for any future "quid pro quo" is now effectively gone.
---
This article originally appeared on ZeroHedge.com and was authored by Tyler Durden.