Former Florida,  Escambia County sheriff's deputy Michael Wohlers now fired sent a woman he tased a fake picture of a "Sorry I Tased You" cake after Taseing her that he didn't even bake. Officer Wohlers tased Stephanie Byron after Wohlers took Bryon's tea. A lawsuit alleges that this violated Stephanie Bryons civil rights according to Pensacola News Journal.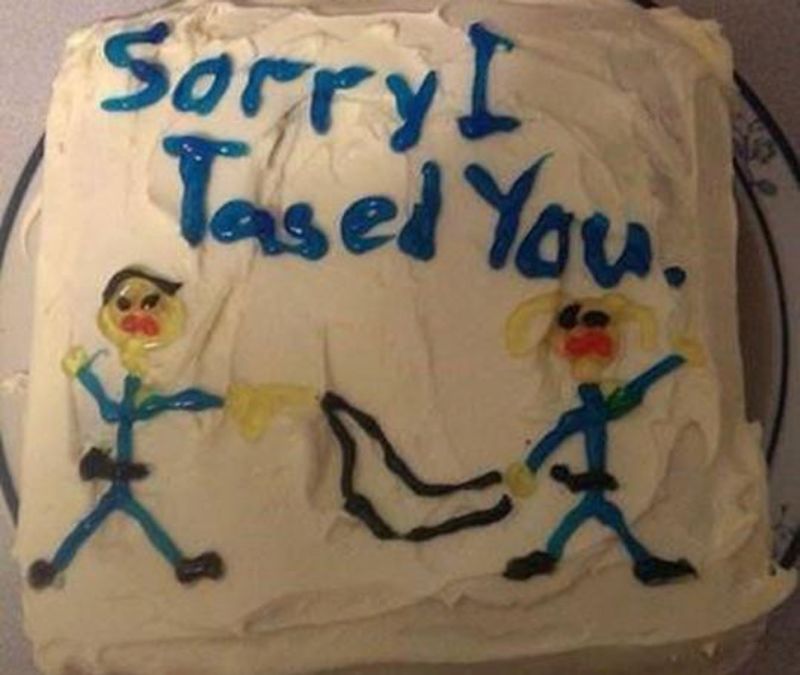 Stephanie Byron has sued Michael Wohlers used his law enforcement authority to intimidate, harass, and threaten"
According to the  lawsuit in 2015, "Wohlers took Byron's tea, and when she went to retrieve it he fired his stun gun at her." She was then knocked to the floor and the court document says Wohlers "jumped onto Ms. Byron, kneeing her in the chest." He then proceed to remove the stun gun prods from her body and left the scene.
Wohlers allegedly argued with Stephanie Byron in her office in an apartment complex where she worked, over a glass of sweet tea after Wohlers, who was off duty at the time, took her glass and refused to give it back. The suit claims that he acted "aggressive" toward Byron and other employees in the office.
Additionally Wohlers lied and told Escambia County sheriff's office that he accidentally discharged his weapon into a pillow at his house attempting to cover up that he had shot Stephanie Byron with his taser device.
To add onto it Wohlers didn't even take the picture that he sent to apologize to Byron that picture originates from when a Massachusetts cop tased another officer according to Byron's attorney, J. Alistair McKenzie.
Gizmodo has contradicted that claim saying the picture originates from a reddit user, i_lie_on_reddit_lol. An obvious source that can't be trusted but this cop used this picture to "apologize to Byron" in a text message. Not only did he tase her but then he used a fake picture to apologize then lied about discharging his weapon to his station.
That should be the main focus a cop walked into a business institution and randomly tased a woman sitting there working doing her job then left her there then went above and beyond to cover up his actions by attempting to lie and say he had "accidentally shot his pillow." But he got caught when the woman he shot confronted him about it. This is a prime example of why cops need better training and oversight.