(We Are Change) — Costa Rica completed 2016 without using fossil fuel for more than 250 days. Could 2017 be the year we see more countries begin switching to renewable energy?
Costa Rican Electricity Institute reports that renewable energy was the source for 98.2 percent of the country's electricity.
For more than 250 days, Costa Rica was completely powered by renewable energy in 2016 on a mix of geothermal (12.7%), hydro (74.4%), solar, wind (10.3%) and biomass sources.
Renewable Energy in 2016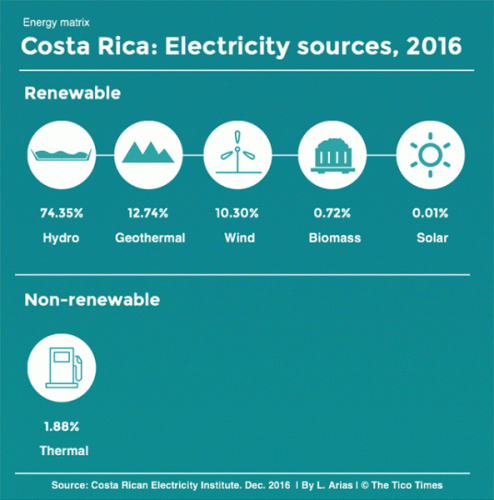 The President of Costa Rican Electricity Institute, Carlos Obregón, announced the following in December:
"We will open four new wind plants next year and we expect favorable meteorological conditions in river basins that feed our hydroelectric plants. Electricity generation using renewable sources is expected to remain stable through 2017."
Hopefully more countries do the same!
Share this article to help make it happen.